Local roundup of Veterans Day events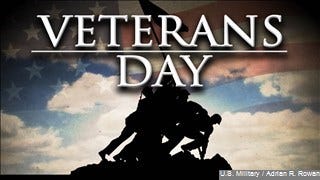 Wednesday, November 11, 2015
Barrington: 11:00 am – Official Veterans' Day Ceremony – Barrington Town Hall – Veteran's Memorial
Bristol: 8:30 am – Wreath laying at the home's memorial garden and dedication to Sgt. McKenna; 10:00 am – Veteran's Council Ceremony mass –Rhode Island Veterans' Home,
Cranston: 9:30 am – 3rd Annual Park View Veterans Day 5K Run/Walk and 1 Mile Kids Run – Roger Williams Park
Burrillville: 11:00 am – Ceremonies at Veterans' Park Bridgeway, Pascoag
Cumberland: 11:00 am – Due to inclement weather, the ceremony has been relocated to The Cumberland Post 14, 695 Broad St.
East Greenwich: 10:00 am – Veterans' Day Parade – From Academy Field, the parade will continue to First Avenue (Rt.401) for a wreath-laying ceremony at the corner of Cliff Street. The parade will then proceed North on Main Street to the Town Hall for closing ceremonies to conclude at about 11:00 AM.
Exeter: 3:30 pm – Dedication of a Veterans Memorial – Exeter Public Library
Fall River: 9:00 am – 4:00 pm – Battleship Cove will honor the sacrifices of the men and women of the armed services, past and present, with free admission throughout the day.
New Bedford: 11:00 am – New Bedford's Veterans Day Parade – The parade will march from Buttonwood Park headed East on Union Street to Pleasant Street, then turn left onto Pleasant Street to the reviewing stand located in front of the New Bedford Main Library. A Veterans' Day service will be held at the reviewing stand at the conclusion of the parade
North Kingstown: 10:00 am – Veterans Day Parade – The parade route follows West Main and Brown Streets to Boston Neck Road and then onto Fairway Drive to North Kingstown High School for concluding ceremonies
11:30 am – Fifth Annual Women Warriors Charity Luncheon – Quidnessett Country Club – Operation Stand Down honors our veterans by recounting the truly inspiring stories of Rhode Island's female veterans
Pawtucket: CANCELLED DUE TO WEATHER
Providence: 12:00 pm – Brown University ceremony honoring Brown and Rhode Island communities who have served the nation in the United States military – Sayles Hall.
Woonsocket: 11:00 am – Veteran's Day Observance – United Veteran's Armed Forces Park on Davison Street – immediately followed by Museum of Work & Culture's annual Veteran's Day event
(C) WLNE-TV 2015