Local veteran organizations repair roof for serviceman in need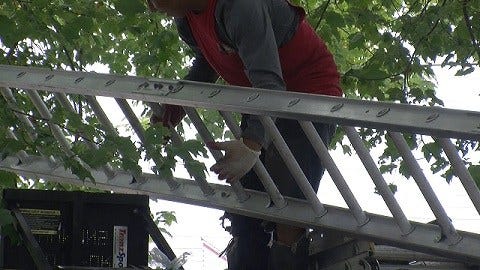 By: Kirsten Glavin
kglavin@abc6.com
Multiple veteran groups came together Saturday, to give a deployed serviceman a brand new roof for his family. The reason? To help combat veteran suicide.
"This is just one less stress that he has to worry about. He knows his family is going to be warm and safe throughout the winter," said Phillip Demers, Secretary of the local branch of the U.S. Veterans Motorcycle Club.
He was a local veteran in need. After learning of his 7th deployment, the Fall River serviceman was worried that the roof over his family's head, would not survive another cold Massachusetts winter.
"Any stress that any veteran feels, whether it's home related or overseas, and deployment related, is potentially contributing to their mental health," Mark Negron, a member of the Active Heroes Organization said.
The U.S. Veterans Motorcycle Club and the Active Heroes Organization joined forces to help out a brother. With the help of volunteers, they stripped and re–shingled the entire roof. The project, costing more than 11 thousand dollars, was done for free.
"They're already under so much stress and strain. And something like this taken care of for them was just a huge relief," said Negron.
Studies show that 22 veterans commit suicide every day, in the United States. The active heroes organization helps prevent that. And they say the 6 months worth of prep work for the home repair project, was worth it.
"We have to do everything we can to support them. And anything we can do, could be the one thing that keeps a veteran from turning to suicide, and that's what it's all about," Negron said.
(C) WLNE-TV 2015