Long files complaints against council president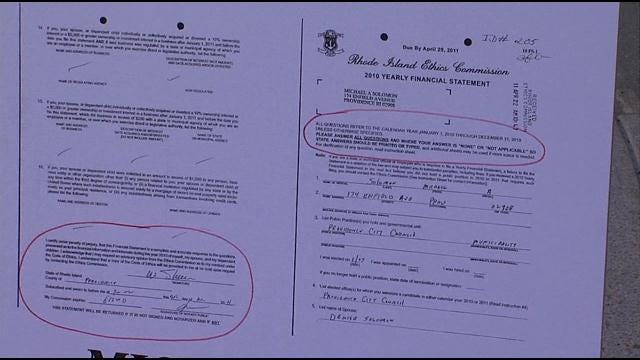 Armed with a stack of papers, the man in the blue coat filed 25 ethics complaints filed against City Council President Michael Solomon.
The complainant is Michael Long, a candidate for City Council, Ward 1.
He says Solomon did not properly file all his financial disclosure statements.
"I believe that that is negligent of a public official. We should expect more and we should hold our officials to a higher standard than that," says Michael Long.
Among the complaints that Solomon still has an unpaid federally backed loan on the Conrad building downtown, that was secured through the Providence Economic Development Partnership.
Whether there are any of these complaints has any credence to the complaints, will be up to the state Ethics Commission.
But the timing is not good for candidate Michael Solomon, with the primary for Mayor is just 33 days away.
The complainant who has not endorsed anyone for mayor, says his motives are not political.
"It's not political. I hold myself to be a watchdog of the law," says Long.
Council President Michael Solomon, who wants to be the next mayor, says he will review all his financial filings and amend them if necessary.
Solomon's spokesman called the ethics complaints, "political theatrics."
(C) WLNE/TV 2014