Longtime Landlord: Twins Involved in Accident May Have Been Trying to Save an Animal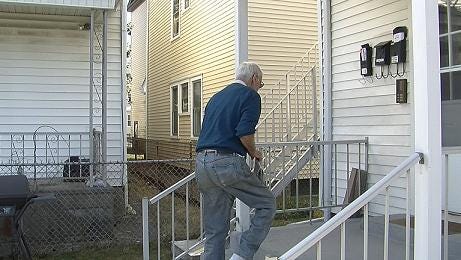 A flag flies at half staff outside the Institute for Developmental Disabilities in Assonet in remembrance of an employee who died over the weekend after being hit by a car on 195. 44-year-old identical twin sisters were hit by separate cars while crossing the highway. One was killed, the other injured.
Why 44-year-old Carolyn and Cynthia Clement crossed 195 at night over the weekend, is still a mystery. Their landlord, Robert Oliveira, says the two were extremely shy, kept to themselves, and didn't drink.
"Why would anybody cross a highway like that?" asked Oliveira. He's been the Clement's landlord for ten years. Carolyn and Cynthia clement live on the third floor of Oliveira's triple decker apartment home.
State police say the twins were struck by separate cars around 12:10 Saturday morning crossing I-195 East. Carolyn was pronounced dead on the scene. Cynthia is recovering at Rhode Island Hospital. She was in serious condition, but has been upgraded to good condition.
Oliveira spoke to the twins older sister, who asked for privacy during this difficult time.
"Cyndi doesn't have any recollection of why, what happened," said Oliveira.
According to police, the Fall River twins had pulled over in the break down lane. The reason is still under investigation. But the bigger question that's puzzled police and Oliveira, is what drove them to cross a dangerous highway at night? Oliveira says maybe there was an animal on the other side.
Oliveira said, "I think very possibly either they hit an animal and they were trying to rescue it."
Oliveira says the two adored animals, they have four cats, that he's currently taking care of. He says they were returning home from a cafe in Providence Friday night, where they'd gone to see a friends band.
The two really were inseparable, not only did they live together, but they worked together at the Institute for Developmental Disabilities in Assonet, Massachusetts.
The Clement twins worked at the Institute for years. Carolyn spent 9 years in house keeping and the surviving twin, Cynthia, has worked 14 years in food service.
The flag out front flies at half staff in remembrance of Carolyn Clement. Staff tells us everyone is heartbroken.
The accident is still under investigation and state police say it could take weeks before a final report is finished. They're looking into a number of factors. Whether alcohol played a role in the twins decision to cross the interstate, as well as the drivers who hit them, and their speeds. Both drivers did pull over after the accident.