Lottery winners drawn for Rhode Island historic tax credits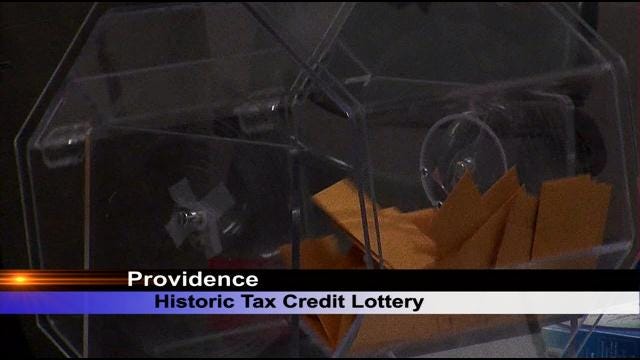 by ABC6 Chief Political Reporter Mark Curtis
It's Rhode Island's version of Wheel of Fortune.
State taxation leaders – spinning the lottery bin – to find out who gets to divide $35 million dollars in historic tax credits.
Among the winners, a developer who wants to revamp the old Hope Mill in Scituate.
"155 apartment units with hydro electric, solar voltaic panels, a waking path, fishing. All types of amenities," said Vincent Coccoli, who is developing Hope Mill.
Another winner, this old factory in Providence, could house veterans in danger of being homeless.
"And I think it's our responsibility and our duty to do something and that's what we are going to do," said Jack Padien from the Arc of Blackstone Valley, which is helping veterans.
ABC6 Chief Political Reporter Mark Curtis said, "By law, the winners of the lottery do not yet have to disclose their projects, but one group of developers says Downtown Providence did very well in the drawings."
But controversial plans to use the tax credits to restore the old "Superman" building, were not part of any bid.
And the random lottery helped avoid putting politics in the decisions.
Rhode Island Tax Administrator David Sullivan said, "Everybody was on a level playing field. Everyone had the same chance. There wasn't any bias of any way. And we wanted to make it as transparent as possible."
It's estimated the tax credits could generate $150 million in new construction spending.
"I think it means potentially thousands of new jobs over the course of a couple of year period. It needs new income tax for the state," said Scott Wolf of Grow Smart Rhode Island.
All told, 32 projects will divide almost 35 million in tax credits.