Loved ones mourn Middleborough HS senior killed in car crash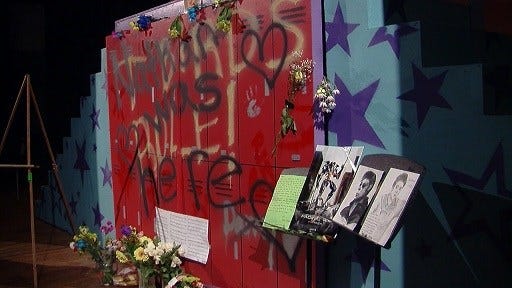 By: Rebecca Turco
Email: rturco@abc6.com
Twitter: @RTurcoABC6
MIDDLEBOROUGH – Family and friends are mourning a Middleborough High School senior who was killed in a car crash.
Nathan Childs, 18, died after his 2003 Jeep Grand Cherokee crashed on Wareham Street around 1:30 a.m. Sunday, according to police. His two passengers were transported to Tobey Hospital with non-life-threatening injuries. Police think Childs may have fallen asleep at the wheel.
Loved ones have made memorials near the crash site and at the school auditorium, where Childs played Roger in the school's production of Grease. Sunday was supposed to be his last performance.
"It's really just weird to think about the last show – how we would probably all just be together hanging out after it, instead of waking up and feeling this way," Childs' friend Kalyn Kosh told ABC6 News.
She describes him as friendly, funny and artistic. "His smile just lit up the room," Kosh said. "He always had a bounce in his step."
Emily Ellis, who says she grew up with Childs, can't believe he is gone. "All his sarcastic, witty comments and everything that made him, him – it's not going to hit anyone until they realize that he's not here anymore," she explained.
Middleborough Schools Superintendent Roseli Weiss said grief counselors were at the high school Sunday and Monday, and will be there again Tuesday and as needed. "The kids are still devastated," she said. "They're still trying to come to grips with the loss of a classmate."
© WLNE-TV 2014