Lowe's Garden Center awning collapses under heavy snow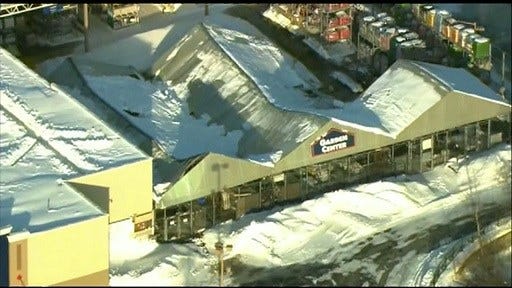 By: Rebecca Turco
Email: rturco@abc6.com
SEEKONK – Part of the roof of the Lowe's Garden Center in Seekonk came crashing down Monday from a heavy snow buildup.
It happened around 3:15 in the afternoon. Fire Chief Michael Healy said the roof is an aluminum frame with fiberglass on it, and when it fell, it hit a sprinkler pipe, which flooded half of the store with two inches of water. "They do have water damage inside the store and that will be an assessment of the store to take care of," Healy explained.
Subcontractor Andrew Ramos was clearing snow from the roof of the main Lowe's building when the roof of the Garden Center came crashing down. "It's scary that the roof would collapse [when we were] close to it," Ramos said. "It's scary being up there and hearing that."
The Garden Center was closed when the roof collapsed, so no one was hurt. The main store was evacuated just to be safe. "They just told everybody to get out and we got out," Ramos explained.
"If it had been open and there had been people out there shopping, it probably would have been in much more serious condition," Healy said.
© WLNE-TV 2015