MA gubernatorial debate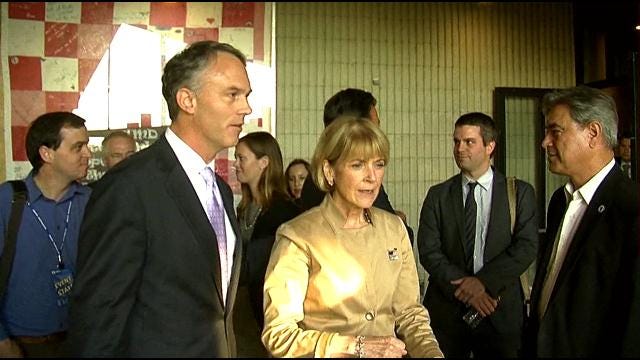 By Dana Griffin
@DanaRGriffin
North Dartmouth, MA- UMass Dartmouth welcomed gubernatorial candidates, Martha Coakley and Charlie Baker to discuss issues that matter most to the South Coast.
Issues included transportation, gas tax indexing, and boosting the economy.
The race is essentially tied. To some, it shows a more balance of power.
UMass Dartmouth freshman, William Cook-Warren, said, "We have voters thinking and throughout Massachusetts the last like 10 years, we've had polarized partisan politics."
"I heard some things that convinced me that my candidate was the right one and that the other person was really not consistent with what I'm looking for," said, Jamie Jacquart.
Both candidates criticized each other on ways to raise revenue.
"The attorney general has made it very clear that she's wide open to raising taxes and in fact supports raising taxes every year, forever on the gas tax. I think that's the wrong direction for Massachusetts and Massachusetts voters," said Charlie Baker.
"I think we both have to be accountable for what we're going to do and how we're going to invest in the future. I'm particularly interested in how he can be committed to the south coast rail when he doesn't support indexing. He hasn't made a firm commitment and I asked him several times tonight how he's going to pay for it," said Attorney General, Martha Coakley.
After weeks of attacks there was an agreement on one thing: matching skill capabilities to more jobs.
©2014 ABC6/WLNE-TV. All Rights Reserved.