Macy's Re-Opens With Charity Event at Warwick Mall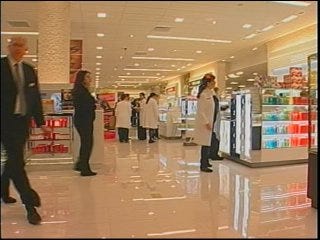 While the official grand opening for Macy's at the Warwick Mall may be Wednesday, shoppers who are willing to donate to charity have a chance to shop at the new store today, a day early.
Macy's is back open at the Warwick Mall, almost a year after flooding caused major damage at the mall, and across the state.
The 186,000-square-foot, two-story store was gutted and renovated based on Macy's latest store prototype.
The mall was forced to close in March of last year when historic flooding hit Rhode Island. At least 2 feet of muddy water seeped into the building.
It took months for many stores in the mall to reopen.
Macy's officials say they've hired back most of the workers who lost their jobs last year, and some positions remain open.
The mall and its tenants spent a total of $110 million on renovations after the flooding.
ABC6 Reporter Shannon O'Brien had this report today, and ABC6 Reporter Erica Ricci had a full preview Tuesday night.