Magic Plays in Osborne Charity Hoops Game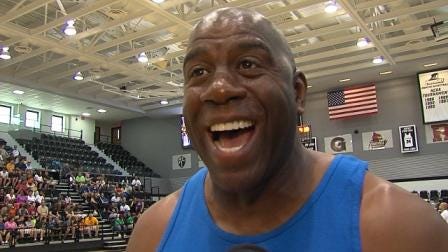 By Matt Blanchette
Magic was in the air in Providence on Sunday as Lakers legend Magic Johnson headlined a celebrity showcase at the Jeffery Osborne charity basketball game.
Magic is still in fantastic shape and coached of one teams.. Providence College's Ed Cooley was the other coach
Osborne himself sang the national anthem.
Model and Apprentice star Claudia Jordan., a Providence native, was also on hand.
Magic and Osborne have been friends for over 30 years.
"To give back to Rhode Island to his community is really wonderful," Johnson said. And then you think about here is a guy that's made it but hasn't forgotten where he has come from and wants to make a difference. I love it. So when he asked me to do it I said I am here, just tell me when you need me"
"He is here to support me with the game and the golf tournament which kicks off tomorrow," Osborne said. "It's just nice. A lot of these kids we just gave ticket to. We are just trying to do some things here in the community and give back. That's the most important thing. Give back."