Maine governor slams Patriots over deflated footballs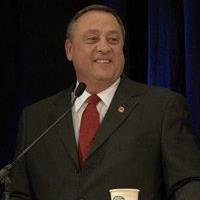 By News Staff
The Associated Press
Maine Gov. Paul LePage says the New England Patriots are a "less than ethical" franchise and cemented that reputation with this week's controversy about the use of deflated balls in the AFC Championship Game.
The Republican governor made the statement in Portland while addressing a group of reporters, one of whom asked his opinion about the unfolding investigation about the deflated footballs.
LePage says the Patriots "have a track record" of unethical behavior on and off the field. He criticized team owner Robert Kraft for backing out of a planned move to Hartford, Connecticut, in 1999, as well as head coach Bill Belichick for his abrupt resignation from the New York Jets the next year.
Belichick said Thursday he doesn't know how the footballs became deflated.
(C) WLNE-TV 2015