Major developments in Boston Strangler case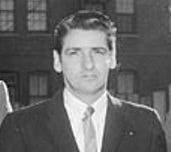 By: The Associated Press
news@abc6.com
A Massachusetts prosecutor says advances in DNA technology have allowed investigators to link longtime suspect Albert DeSalvo to the last of the 1960s slayings attributed to the Boston Strangler.
Nineteen-year-old Mary Sullivan was found strangled in her Boston apartment in January 1964. She was the last of 11 women whose deaths were attributed to the Boston Strangler and the only victim for which DNA evidence is available.
The announcement represents the most definitive evidence yet linking DeSalvo to the case. He confessed to the killings but was never convicted. He was sentenced to life in prison on other charges and was stabbed to death there in 1973.
Suffolk District Attorney Daniel Conley says the DNA produced a "familial match" with DeSalvo. His remains are being exhumed and Conley says he expects an exact match.
(C) WLNE-TV 2013