Making A Run At Another Record High Monday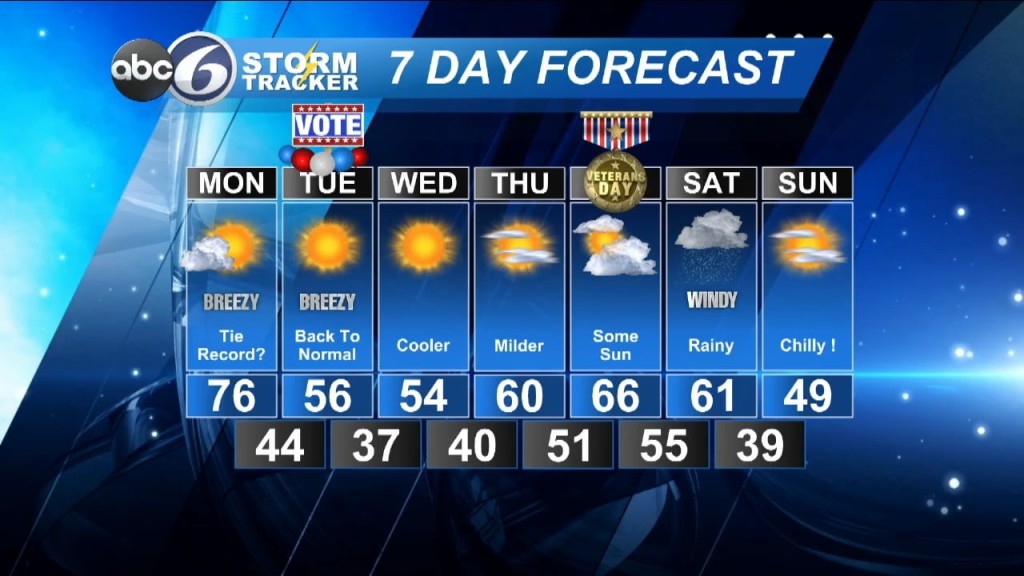 Since most of us have already had a first frost this unseasonably warm and somewhat muggy stretch can be called our second summer!
We tied the record high of 75° at T.F. Green Saturday and and set a brand new one Sunday by reaching 75° once again! There will be passing clouds Sunday night, more so late along with an isolated light shower or sprinkle. It'll also still be slightly humid with lows in the low to mid 60s.
Monday, sunny and another potential tie or record breaking day! There will be quite a few clouds around in the morning and it will be slightly muggy, but as we move to the noon hour a old front will begin crossing the area that will lower the dewpoint temperatures significantly behind the passage of a cold front as any clouds clear away. The Record high temp is 76° in 2020 and I think we will either tie it or fall a degree short. Monday night turns much cooler under a clear sky with Lows in the mid 40s.
Tuesday and Wednesday, mainly sunny with more seasonable temperatures. High temps in the mid 50s, overnight low temps in the 30s and 40s.
Thursday start another warming trend last through Veteran's Day with highs returning to the 60s. The next threat of rain and wind looks to arrive Saturday followed by a significant cool down Sunday.
ABC6 Meteorologist, Bill Gile