Man finds pearl while eating quahog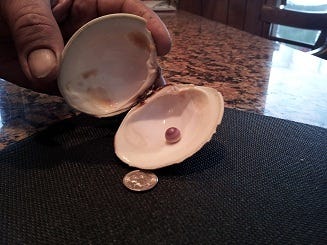 Dana Griffin
BRISTOL, RI- A local fisherman may have found a hidden treasure while eating a raw quahog, found in Bristol. After biting down, he thought he chipped a tooth, but turns out it was a pearl.
Last Wednesday, a group of friends got together to steam shells they found earlier that day near the Mount Hope Bridge. Robert Morris of Bristol didn't help dig for the shells; he just came for the feast.
"So, I grabbed a quahog, swallowed it and chewed on it a little and I felt this thing up in my jaw and said oh boy, here goes my teeth falling out. I looked and there it was. It was a pearl. Fortunately, I didn't chew on it. Fortunately, I didn't swallow it," said Morris.
The fisherman says the 10-millimeter pearl is a rare find.
Kojima Pearl Company based in San Rafael, California took a look at our photo. They believe it's a 4–karat pearl worth up to $2,000.
Pearls without cracks, flaws, and those with a deeper purple hue could go for tens of thousands of dollars.
This quahog connoisseur says you bet, he'll be selling it but doesn't want it turned into just a piece of jewelry.
Morris said, "Maybe some museum would be interested in this because we have the shell and we have the history, documentation where it came from. They'll have to be held under secrecy for the disclosure of the spot, but I'm sure Tony wouldn't mind."
An x–ray will have to be done to give a more accurate appraisal.
©2014 ABC6/WLNE-TV. All Rights Reserved.