Man killed in Prudence Island fire identified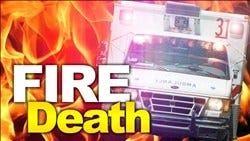 By Sean Cahill
The man that died Thursday night after a house fire on Prudence Island has been identified as 83-year-old Norman Medeiros.
Crews responded to the home at 088 Ross Avenue at around 7 p.m. and were able to knock down the fire around 9:10 p.m.
Medeiros, the owner of the home, was inside during the fire, says Portsmouth Deputy Fire Chief Michael O'Brien.
One firefighter was injured but the severity of the injuries is not known.
The cause of death and the cause of the fire are still being investigated by Portsmouth Fire and Police Departments.
(C) WLNE/TV 2013