UPDATE: Police search for 2 suspects after deadly shooting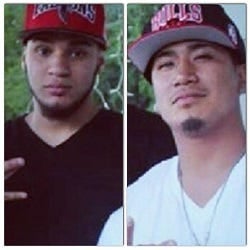 Dee DeQuattro
Reporting by: Alexandra Cowley
Providence police have identified the two individuals responsible for gunning down another man inside his car, right on a city street in broad daylight.
The suspects were identified as Felix A. Olivares (left) and Kongvannark "Ricky" Maloney (right). Both suspects are providence residents and have active arrest warrants for the murder of 20-year old Johenlly Gabriel Espinal.
Officials say both should be considered armed and dangerous. Anyone with information should contact the Providence police department's detective's bureau at 401-243-6406.
A man was gunned down in Providence around 1 p.m. on Friday afternoon.
Providence Police Major David Lapatin says that the incident took place when the victim was exiting the parking lot of the Wiggin Village housing complex and another vehicle collided with his vehicle. After the collision the driver and passenger of the other vehicle jumped out of the car shot the victim and fled the scene on foot.
Lapatin said police continue to search the area for the suspects who they believe knew the victim.
The victim was transported to Rhode Island Hospital where he was pronounced dead. Both the passenger and driver's side window were shot.
(C) WLNE-TV 2013