Manchester Scores In Third Period To Beat Providence Bruins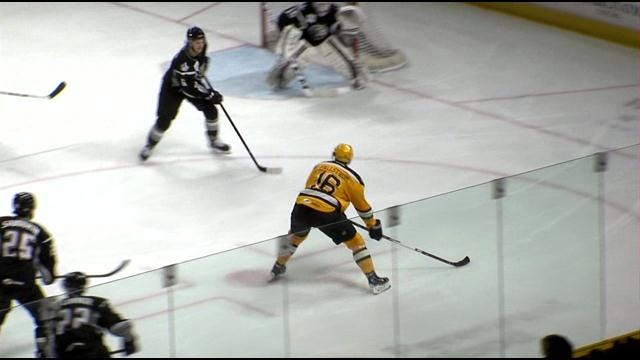 Providence Bruins Press Release
Providence, R.I. – The Providence Bruins fell to the Manchester Monarchs today at the Dunkin' Donuts Center by a final score of 3-2 . The P-Bruins got goals from Alexander Fallstrom and Nick Johnson, while Malcolm Subban made 17 saves.
In the first period, The Providence Bruins took the lead first with a goal from Fallstrom, assisted by Mike Moore and Andrew Cherniwchan at 4:14 into the game, which was Fallstrom's 3rd goal of the season. Manchester got on the board with a power play goal from Andy Andreoff to tie it 1-1 at the 10:50 mark, assisted by Zach O'Brien and Linden Vey.
Monarchs scored first in the second period when Scott Sabourin got the puck past Malcom Subban unassisted at the 3:09 mark. The P-Bruins scored at the 6:33 mark to bring it back to a tied game at 2 with a slap shot from Johnson for his 18th goal of the season. Tommy Cross and Fallstrom had the assists. At the 2:39 mark the Monarchs took the 3-2 lead with a goal from Jeff Schultz and assist from Steve Quailer, giving Gravel his first goal of the season. The goal ultimately gave the Monarchs the 3-2 victory over the P-Bruins as they were unable to tie it up again, despite having several great opportunities to score.
The P-Bruins were 0 – for – 1 on the power play and 2– for – 3 on the penalty kill. Subban made 17 saves while Jean-Francois Berube made 25 saves for the Monarchs.
Providence will have their next home game this Friday at 7:05 when they face-off against the Manchester Monarchs once again. The first 2,000 fans in attendance to Friday's game will receive a free keychain, courtesy of NE Ambulance Service. For tickets to this or any other P-Bruins home game please visit www.providencebruins.com.