Manhole explosions sparked by faulty electrical cable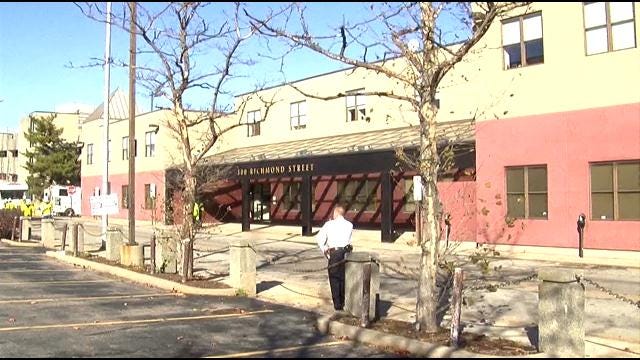 By Dana Griffin
PROVIDENCE, RI- An underground fire, caused by a faulty electrical cable sparked eight manholes to literally blow their tops, sending two people to the hospital.
"I don't want to get hit with a manhole cover," said resident, Turner Dubler.
That's what many were afraid of after a sequence of man hole explosions, set off by an underground fire shook the Providence Jewelry District.
"We felt an explosion and we all went outside," said witness, Bill Patrick.
Around 11 a.m. on Richmond Street, firefighters were checking manholes like one of which was billowing with black smoke. They immediately cleared the area after one man hole flipped into the air, nearly hitting the firefighters.
Patrick said, "And then a few minutes after that, we saw another explosion and I saw a manhole cover fly up into the air at least a story and a half."
National Grid president, Tim Horan, said, "Well, I'm sure there was some type of vapor. We had high CO2 readings within the building and within the particular area, but that's what we really have to dig into and find out."
During those explosions, neighboring workers ran outside.
Witness, Leeds Mitchell said, "Actually saw a fire ball at one point and that's when people really got away from the scene."
Nearby businesses were evacuated. The Brown medical school and other residents were told to shelter in place.
Dubler rushed from work hoping to get to his handicapped mother. She called him anxious after hearing the explosions near her home on Chestnut Street.
"She's feeling unsafe and wanted me to come pick her up and I'm not able to get there," said Dubler.
Providence Public Safety Commissioner, Steven Pare said, "There were two pedestrians that were injured, slightly. They were transported; slight injury and they're expected to be fine."
Two hours later, streets re–opened, and workers returned to their office.
National Grid replaced the old cables with new ones. The utility company says this was not gas related.
©2013 ABC6/WLNE-TV. All Rights Reserved.