Dog on trial after biting Mansfield boy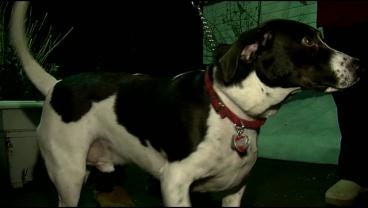 By Abbey Niezgoda
Milo the dog is well known on West Street in Mansfield, but he is also the reason the divide between neighbors goes beyond the white picket fence.
"He said mommy, Milo bit my face and he would not let go. He had my face and he would not let go," Dawn Herbert-Miller said.
It is the story she heard from her 6-year-old son Christian after he was mauled by Milo at his next door neighbor's house. He needed 400 stitches.
"To have a dog hanging on your face and not letting go, it's just horrifying to me," Herbert-Miller said.
She filed a complaint with the town and now Milo will face a mini-trial in Mansfield Wednesday night. The Select Board could decide anything from a light penalty like a muzzle, to the most severe, putting the dog down.
Milo belongs to next door neighbor Heather Bailey. She was babysitting Christian at the time of the attack.
"On top of the guilt for Christian I'm going to have the face the guilt of putting down my dog," Bailey said. "I feel so bad. and I feel responsible, but I don't think killing Milo will bring any good to this."
On the other side of the fence, a different view, from a mother who sees her son in pain.
"It's a constant reminder every time I look at his face that this happened," Herbert-Miller said. "And I just really want to never have this happen to anybody else."
The Select Board will give their decision following a public hearing Wednesday night. The dog's owners will then have 10 days to appeal.