Ads in art? Mansfield mural committee to draw up another solution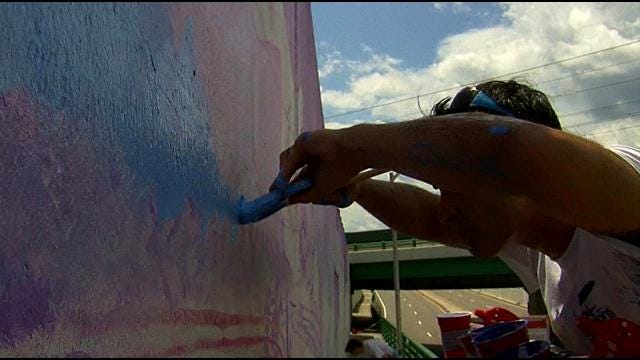 By Abbey Niezgoda
It may feel like 106 degrees on the side of Route 106 in Mansfield, but lately the heat is measured in paint strokes.
"Well we're out here painting about 12 hours a day," artist Ian Gaudreau said.
The big pictures is a big mural, meant to tell the story of Mansfield's past.
"It's going to be 400 sq. feet of wall filled with color and paint," Gaudreau said.
But amidst the art, could soon be ads. Painted logos are one way the mural committee wants to thank their sponsors.
"It's just one idea," Scott Bergante said. "It would be kind of like a faux engraving style, approximately 2 x 3 feet in area each."
Those involved with the mural say the logos would only take up a small space, but the town says even that could paint the entire thing in a bad light.
"We don't want it to be a billboard for advertising," Chairman of the Board of Selectman Jess Aptowitz said.
The town's Board of Selectman says by proposing the idea, the mural committee is coloring outside the lines.
"It was supposed to show Mansfield's growth," Aptowitz said. "Ads for businesses isn't what we thought it would be."
The committee is working to draw up another solution and thank sponsors in another way, perhaps on a banner or a plaque."
The artist just wants to know what he will have to paint so he can finally finish his masterpiece in Mansfield.
"90% of it will be done by September hopefully," Gaudreau said. "It's going to look awesome."
The committee is meeting with town officials at the end of the month to discuss alternatives.