Many questions remain unanswered in Speaker Fox investigation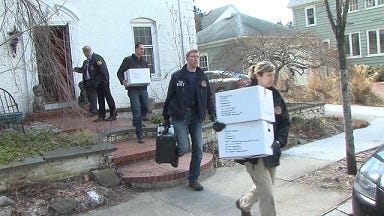 By: Samantha Lavien
Twitter: @samanthalavien
One of Rhode Island's most power politicians, Speaker of the House Gordon Fox, is under a microscope after law enforcement officials raided his state house office, law office and house on Friday. It is still unclear why those raids were done.
Speaker Fox has not been charged with any crime or accused of any wrongdoing at this point.
Friday night some Rhode Island democratic state reps gathered at the Marriott in Providence for a closed door meeting to discuss the investigation surrounding Fox.
"Gordon Fox is still the speaker he has a two year term, I have no idea what precipitated the events today so I can't comment on that," said State Rep. Nicholas Mattiello.
Friday morning law enforcement agents raided his state house office with no explanation as to why.
"I was in my office working and the State Police came, they asked us to leave," said Larry Berman the House Communications Director.
FBI agents also swarmed the Speaker's Providence home, they left carrying out boxes of documents, piling them into an unmarked van.
Fox returned home shortly after they left making no comment to the media. He did receive a visit from his Chief of Staff who was tight lipped about the situation.
"I haven't been summoned, I've come to see how a good friend is doing," said Frank Anzeveno Fox's Chief of Staff.
We're told the FBI, IRS, Rhode Island State Police and U-S attorney's office are investigating.
Speculation is rampant this could be about Fox's involvement in the failed 38 studio's deal or income he made from the Providence Economic Development Partnership or a campaign ethics complaint.
© WLNE-TV 2014