Marchand scores 2 as Bruins beat Kings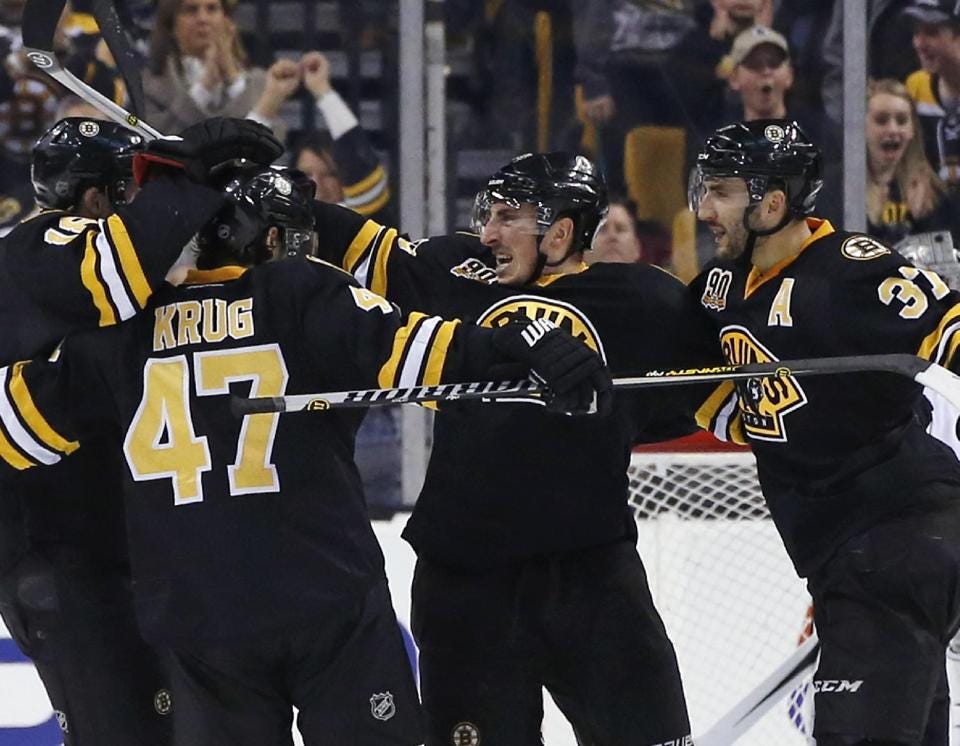 BOSTON (AP) — Brad Marchand really didn't have an explanation for his recent run. He just wants it to last as long as possible.
Marchand continued his hot scoring stretch with a pair of goals Monday, lifting the Boston Bruins to a 3-2 win over the Los Angeles Kings.
He also had two in Boston's shootout loss in Chicago on Sunday and has scored six in his past four games.
After scoring just one goal in his initial 14 games this season, he's had 11 in his past 15.
''When
bounces are going your way, you get more confidence,'' he said. ''I
think that's all that it is. I think early on I didn't feel confident in
anything I was doing. Hopefully it'll continue.''
The
Bruins were also happy about how they played in consecutive games
against strong teams, coming off the loss in a Stanley Cup rematch with
the Blackhawks on Sunday.
''I've gotta be honest here,''
Boston coach Claude Julien said. ''I was really impressed with how well
we played. I would have liked to have gotten the extra point, but to
come back with an afternoon game against a team that plays a (physical)
game.''
Torey Krug had the
other goal for the Bruins, who won at home for the 11th time in 13
games. Backup goaltender Chad Johnson made 21 saves.
''We're
very happy,'' Marchand said. ''Two very good teams with back-to-back
with travel. This game was a really tough one. We've got to be happy. We
played a great game yesterday.''
Linemate Patrice Bergeron can see Marchand's confidence growing.
''Well,
definitely confidence helps a lot,'' he said. ''I think that's got
something to do with it, but I think that he is really moving his feet
and he's using his speed to his advantage and he's creating a lot of
plays just by his hockey instincts. He's taking what's in front of him,
he's not forcing plays.''