Marcus Fuller's 4-TD Passes Leads Brown Over URI for the Governor's Cup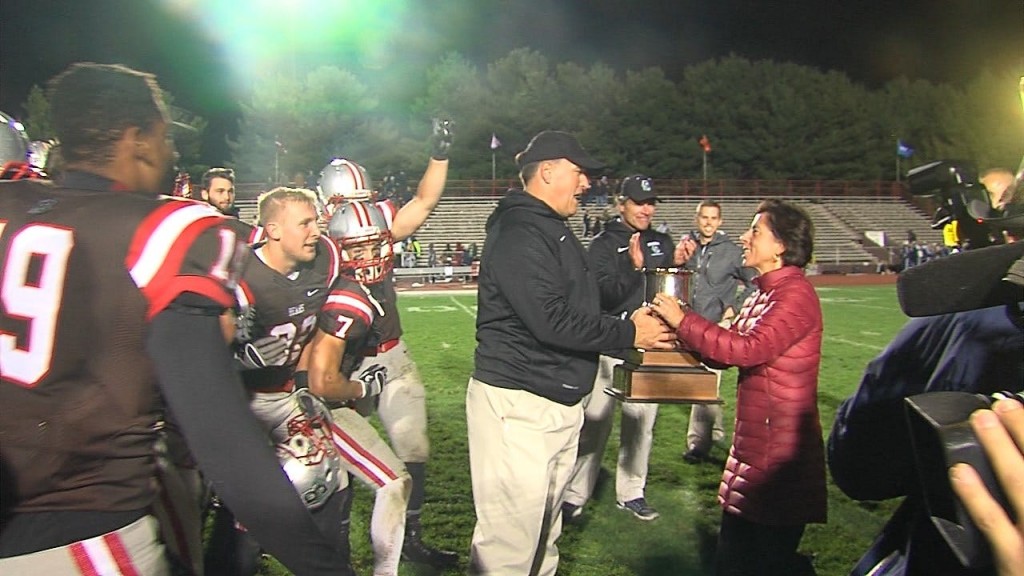 Brown news release…
Providence, R.I. – Brown senior quarterback Marcus Fuller (Ashland, OH) passed for 438 yards and four touchdowns to rally Brown to a 41-31 win over Rhode Island at Brown Stadium, capturing the Governor's Cup for the fifth straight year. The win lifts the Bears to 1-2 overall, while Rhode Island falls to 0-5.
Rhode Island Governor Gina Raimondo was on hand to present the Governor's Cup and watch Brown rally from a 31-27 fourth quarter deficit following a kickoff return by Rams' Harold Cooper with 8:18 remaining.
Fuller answered by engineering a 91-yard scoring drive for the go-ahead touchdown, tossing a 34-yard pass to junior Alex Jette (North Attleboro, MA), who made a spectacular catch in the end zone with 5:16 left in the game.
Brown junior defensive back Jordan Ferguson (Landera Heights, CA) iced the game for the Bears with a pick-six, returning an interception 34-yards for a touchdown with 2:03 remaining to give Brown a 41-31 lead.
"This is the most beautiful win I've ever had," said an ebullient Brown head coach Phil Estes. "After the kickoff return for a touchdown, our guys did not give up. Instead they said, 'let's go.' We still have a lot to fix, but we're heading in the right direction."
Brown's fast-paced offense ran 100 plays, compared to the Rams' 56 plays from scrimmage. The Bears outgained the Rams by a 559-342 margin in yards.
Fuller completed 41-of-58 passes for 438 yards, throwing touchdown passes of 20, 11, 15 and 34 yards. His 41 completions rank fifth in the Brown record book while his 438 passing yards are 10th all-time at Brown.
Three different Brown wide receivers had 100 or more yards. Senior Brian Strachan (Wellesley, MA) caught 15 passes for 135 yards, with his 15 receptions seventh all-time in the Brown record book. Jette had nine receptions for 116 yards and two touchdowns, while senior Troy Doles (Saratoga, CA) made nine catches for 127 yards and a touchdown.
"We were in the fast mode for most of the game," said Estes. "Our wide receivers were exhausted, so much so that I thought they needed some oxygen. But they kept responding and making plays"
Rhode Island quarterback Paul Mroz passes for 195 yards, completing 14-of-32 passes. Cooper rushed for a game high 109 yards on 14 carries.
Defensively, junior Robert Hughes (Long Valley, NJ) paced the Bears with six tackles, including a quarterback sack and two tackles for a loss. Senior cornerback Will Quigley (Marblehead, MA) chipped in with five tackles, as did freshman Sebastian Dovi (Newark, DE).
After struggling for the past two weeks, Brown's offense came out with a vengeance, driving 75 yards in six plays on its opening possession to grab a 7-0 advantage on a 20-yard touchdown pass from Fuller to Doles. Fuller completed 4-of-4 passes for 53 yards to engineer the scoring drive.
The Bears extended their lead to 14-0 with 2:03 left in the opening quarter when Fuller connected with Jette, who grabbed the ball at the nine-yard line and plowed into the end zone.
Rhode Island got on the scoreboard when Greg Doutre sacked Fuller, forcing a fumble at the Brown 26 yard line and Rams' Adam Parker picked it up and ran into the end zone for a touchdown to cut the Bears' lead to 14-7.
Bears' sophomore tight end Oliver Bucka (Menlo Park, CA) hauled in a 15 yard touchdown strike from Fuller for a 20-7 Brown lead with 10:22 left in the second quarter.
A bad snap on a Brown punt gave Rhode Island possession at the Brown three-yard line. The Rams scored on the first play from scrimmage with Cooper running in from three yards out.
URI opened the second half with a 23-yard field goal to cut Brown's lead to 20-17 with 12:10 left in the quarter. The Rams then took their first lead of the game, 24-20, on a 13 yard touchdown pass from Mroz to Phadre White at the 5:12 mark of the third quarter.
Brown re-gained the lead on an 89-yard fourth-quarter scoring drive with Seth Rosenbauer (Lima, OH) scoring on a 4-yard run for a 27-24 advantage.
Next week, Brown travels to Worcester, Mass. for a match-up against New England rival Holy Cross on Saturday, October 10. Game time is 1:00 pm at Fitton Field.