Market Basket close to deal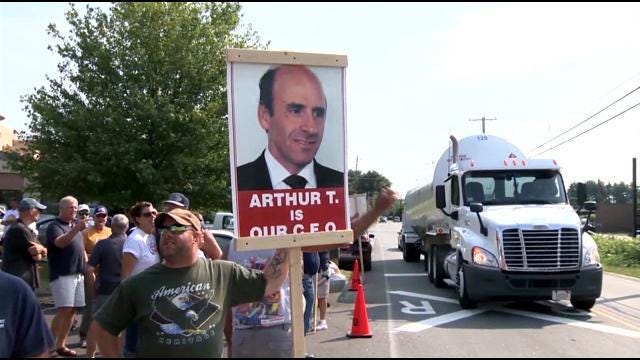 By Dana Griffin
@DanaRGriffin
NEW BEDFORD, MA- At Market Basket in New Bedford, signs are still holding on just like employees and customers are to hope that Market Basket will bounce back.
After weeks of protests, empty shelves and employees hours cut; the effects have trickled down to customers, mostly affecting their wallets.
"Because we've had to go to other stores and get the things we want instead of coming here and saving money," said customer, Frank Costa.
Ginger Gurung's mother is disabled and has faced the same issue.
"She's been having to got to like the smaller store to buy milk when they have no milk here and it's quite a bit more expensive," said Gurung.
Hundreds of part-time workers across the region had hours cut, including seven members of one New Bedford family.
Customer, Alan Pittsley commented, "I mean you got a lot of families that two- three are working at once over here and now they got no money coming in at all and they got kids and everything."
A final offer has been made by Demoulas to buy the company from his cousin and other CEOs, which could end the weeks-long family feud.
A recent statement issued on behalf of Arthur Demoulas reads in part:
"Arthur T. Demoulas expects that this purchase can and should be finalized immediately… There is nothing that stands in the way of getting this done this weekend. It's time to complete this deal so we can all get back to doing what we love doing, and that is running Market Basket."
New Bedford front store manager, Angel Jusino said, "I feel that the right decision is going to be made and we're hoping that next week, that we get the great news that A.D.T will be back and you know we'll get what we've wanted these past five weeks."
"There's gonna be a victory for everyone all the way around," said customer Ron Duarte.
©2014 ABC6/WLNE-TV. All Rights Reserved.