Market Basket protest continues in New Bedford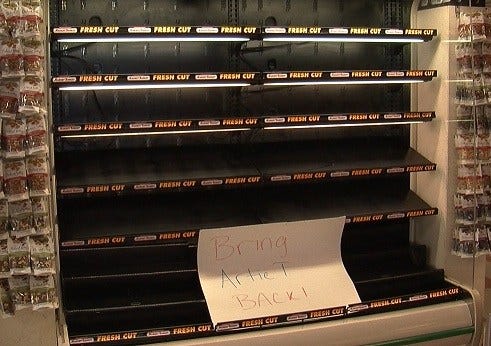 By News Staff,
Food is running out at Market Basket stores around New England. That includes the store on Sawyer Street in New Bedford.
"A lot of empty shelves, you know the employees are still friendly the ones that are still working," said customer Michaela Matheson.
Employees are protesting the firing of CEO Arthur T. Demoulas. He was axed last month by the board of the family run company.
Some customers are starting to join the protest.
"I use to shop here once a week faithfully. Not anymore," said former customer Chris Botelho.
"I feel like it's a good cause for us to be out here and try to get Mr. Demoulas back here as CEO," said employee Derek Boyd.
Demoulas has offered to buy the company. The board says they are considering it along with other offers.
"I hope the board sees this as how much we support Arthur Demoulas and takes his offer very seriously," said New Bedford store manger Jeff Mcrobbie.
In the meantime, the board is urging all employee to go back to work.
(C) WLNE-TV 2014