Mark's "Grown-up Mac n' Cheese"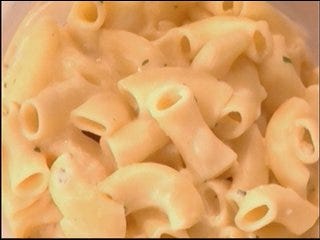 3 cups elbow macaroni (or 12 ounce package) cooked and drained
1 1/2 cups heavy whipping cream
1/2 teaspoon salt
1/4 teaspoon fresh ground black pepper
1/4 teaspoon cayenne pepper
8 ounces smoked cheddar or smoked mozzarella cheese (or 4 ounces of each)
2 (14.5) ounce cans of fire-roasted tomatoes diced and drained
1/3 cup chopped green onions
1/3 cup grated parmesan cheese
1/3 bread crumbs
1 teaspoon dijon mustard
2 tablespoons olive oil


Heat whipping cream, salt, peppers and mustard to a slight boil.
Remove from heat and whisk in the cheese, and combine with cooked macaroni.
Then stir in the tomatoes and onions.
Spray a 13 x 9 cake pan or a caserole dish with cooking oil and pour macaroni mixture into pan.
Combine the dried bread crumbs and grated parmeasan cheese and spread over the top of the macaroni.
Drizzle topping with the olive oil.
Bake at 375 for 15 to 20 minutes until the casserole is bubbling and the topping is browned!