Martinez Home Run Helps Red Sox Sweep Away Blue Jays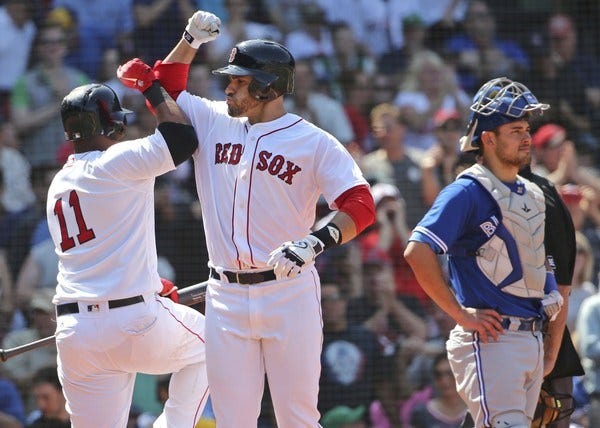 By KEN POWTAK
Associated Press
BOSTON (AP) – The Boston Red Sox are rolling into Houston for their first matchup against the champion Astros since getting bounced by them last postseason.
J.D. Martinez hit a tiebreaking, two-run homer over the Green Monster and out of Fenway Park, and the Red Sox beat the Toronto Blue Jays 6-4 on Wednesday to complete a three-game sweep.
The win finished a 5-1 homestand for the AL East leaders, who own the best record in the major leagues at 39-17.
"It's been great to be able to come in and sweep Toronto, now we're going to be able to face a tough opponent in Houston," Martinez said. "It's fun to leave on this note."
Martinez tied for the major league lead with his 18th homer, breaking a 2-2 tie in the sixth.
Eduardo Nunez had a solo homer and RBI double, and Jackie Bradley Jr., had a run-scoring double for Boston, which has won nine of 11 and improved to 15-3 in series finales.
"Contributions from everybody. We're not relying on one, two, three people. We're ready," Bradley said. "We're playing good ball right now. We look forward to going there and trying to continue with our game plan."
Last year, the Astros beat Boston in four games in the ALDS.
Teoscar Hernandez hit a two-run homer for the Blue Jays, who have lost 13 of 17 and dropped to 2-7 against the Red Sox this season. Toronto, which opened the season 13-6, is a season-high six games under .500 at 25-31.
"I think guys are upset, I think guys are disappointed, I think we have some talented players here that aren't playing up to their capabilities," Blue Jays outfielder Kevin Pillar said.
Toronto will finish May without consecutive wins.
"We'll look forward to a day off tomorrow," manager John Gibbons said. "We could use it."
Eduardo Rodriguez (6-1) gave up two runs and three hits in 6 2/3 innings with seven strikeouts and one walk. Boston is 10-1 in his starts.
Craig Kimbrel allowed two inherited runners to score on Kendrys Morales' double, then got three straight outs for his 18th save in 20 chances.
Making his third start since his May 11 recall from Triple-A, Sam Gaviglio (2-1) gave up four runs and seven hits in six innings.
Boston opened a 2-0 lead on Bradley's RBI double in the third and Nunez's fifth-inning homer off a tabletop above the Green Monster in left.
Hernandez's homer tied the score in the sixth.
TRAINER'S ROOM
Blue Jays: 3B Josh Donaldson missed his second consecutive game with right calf soreness.
Red Sox: OF Mookie Betts missed his fourth straight because of tightness in his left side that flared up during BP Sunday. "If he's OK, most likely he'll be in the lineup tomorrow," manager Alex Cora said … 2B Dustin Pedroia also had the day off.
TWO REVERSALS
The Blue Jays challenged two safe calls with the same batter up in the third: one at second on a steal attempt, the other at the home with a runner looking to score when a pitch bounced away. Both were overturned.
FOND MEMORIES
Cora is excited to get his World Series ring before Thursday's series opener in Houston.
"It was an amazing ride," he said.
He plans to bring a jersey he wore last season as the team's bench coach, have it signed by the Astros and hang it "probably at home."
HARD SHOT
Plate umpire Jerry Layne was dazed by a foul ball off his chest but stayed in the game. Boston catcher Christian Vazquez held up Layne when the umpire was wobbly.
UP NEXT
Blue Jays: LHP Jaime Garcia (2-3, 5.52 ERA) is scheduled to start Friday's series opener at Detroit.
Red Sox: LHP Drew Pomeranz (1-2, 6.75) is to be on the mound Thursday for the opener of a four-game series against Houston. He's 0-1 with a 9.53 ERA in his last three starts and hasn't gone past four innings.
___
More AP baseball: https://apnews.com/tag/MLBbaseball
AP-WF-05-30-18 2147GMT