Mashpee Wampanoag Tribe receives approval for Taunton casino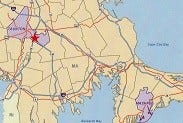 By Kirsten Glavin
kglavin@abc6.com
@kirstenglavin
TAUNTON, MA – The Mashpee Wampanoag tribe celebrated Saturday after receiving approval to build a resort casino in Taunton, Massachusetts.
"This is not only Mashpee Wampanoag history. This is American history," said Cedrick Cromwell, chairman of the Mashpee Wampanoag tribe. "We're going to build a world class, superstar, destination resort casino."
The tribe officially received 321 acres of land on Friday, approved by the federal government. It comes after an application was submitted back in 2007.
Although the tribe is ready to embrace the city, not all Taunton residents are ready to embrace a casino.
"I'm just afraid that the merchants in Taunton are not benefiting from the casino being here because everyone is going to go to the casino, going to stay at their hotels, and bypass all of the hotels that are here in Taunton and the surrounding area," said resident Chester Stankiewicz.
Another nearby resident said it might be worth moving to a quieter area.
"Industrial parks and schools and everything else around here… It's not like it used to be. So it would be good to move on out. Out of the area," said Eugene Child.
Other residents however, said the economic impact will help the city.
"I think it will bring a lot of people, a lot of new jobs for people, and a lot of new business," Ilene Konigsberg told ABC6.
The First Light Casino was approved by the Bureau of Indian Affairs in Washington D.C. and is officially planned for development. It will be built near route 140, adjacent to the Liberty and Union Industrial Park.
Massachusetts Senator, Marc Pacheco, is backing the casino as well. He states it will create more than 35 hundred jobs in the area.