Mass. doctor cured of Ebola considers going back to Liberia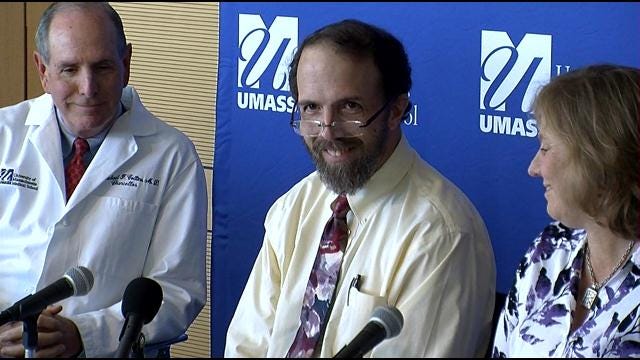 By: Melissa Randall
The Massachusetts doctor cured of Ebola is back home. One day after being released from the hospital he is speaking out about recovering from the deadly virus.
His legs are wobbly, but walking into UMass Memorial Medical School in Worcester Friday Dr. Richard Sacra felt strong. Against the odds the 51–year–old beat the deadly Ebola virus he contracted after 6 months in Liberia.
"The CDC has now tested multiple samples of my blood and all samples from on or after September 19th were negative for signs of Ebola virus— something I'm very happy about," he said at a press conference.
The OBGYN from Holden, Mass. opened up about contracting the deadly virus while working with ill pregnant women. He also spoke about the doctors in Nebraska who treated him.
"They are amazing. You're interacting with people and this is all you've got is your eyes and yet they cared for me. They interacted with me," said Sacra.
Dr. Sacra was given an experimental medication and blood transfusion from another US doctor cured of Ebola, Dr. Kent Bradley. Ironically Bradley was the doctor Sacra went to Liberia to replace.
Sacra was released from the Nebraska Medical Center Thursday and is already considering a return to West Africa.
"I think the odds of my ending up back there are pretty high. I don't have any specific plans but that's where my heart is," he said.
His wife of 29 years, Debbie, is on board with the decision.
"In some ways he has some immunities now so maybe I'm less worried," she said.
Dr. Sacra is one of just 3 recent U.S. missionaries to be cured of the virus that has killed thousands of West Africans'. The Sacra's are urging for continued prayers and support for those affected.
© WLNE-TV 2014
Follow me on Twitter @MelissaARandall