Mass. Gov. Patrick to speak at Mo. Democrat event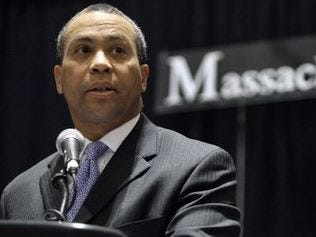 By News Staff
Twitter: www.twitter.com/abc6
BOSTON (AP) – Massachusetts Gov. Deval Patrick is heading to Missouri to be the keynote speaker at a gathering of Democratic lawmakers and activists.
The Missouri Democratic Party says Patrick will headline its annual Jefferson-Jackson dinner Saturday evening in St. Louis. Patrick is scheduled to leave Massachusetts on Saturday afternoon after participating in the kick-off of the Boston Pride Parade at 11:15 a.m. He's expected to return to the state on Sunday.
While Patrick is out of state, Massachusetts Secretary William Galvin will serve as acting governor following the resignation of Lt. Gov. Timothy Murray.
The dinner will also feature Missouri Gov. Jay Nixon, U.S. Sen. Claire McCaskill and other Democrats holding statewide elected offices. Patrick is an ally of President Barack Obama and has less than two years remaining on his term as governor.