Mass. Governor Candidate Defends 'Fisherman Story' as Critics Wonder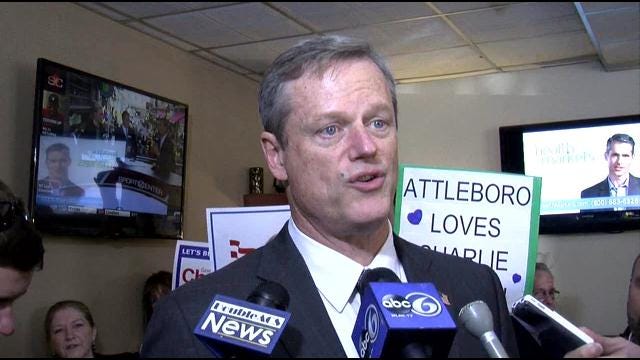 Twitter: @markcurtisABC6
"And I told them no, and I told them….. You're going to be fisherman," said Charlie Baker, recounting a story he said was told to him years ago by a New Bedford fisherman.
On Tuesday night's debate for Massachusetts Governor, Republican Charlie Baker shared a tearful story about a New Bedford fisherman, who would not send his two sons to college even though they were star athletes at New Bedford High School and won scholarships.
But so far no one in New Bedford has been able to identify such a family.
"It didn't ring true to me when I heard it, and I've talked to folks on the waterfront as well as at New Bedford High School, and nobody seems to have any idea whom he might be referring to," said Mayor Jon Mitchell (D) New Bedford.
The New Bedford fishing community is close knit, and Baker's critics – including Democratic nominee Martha Coakley – say Baker needs to authenticate his story.
ABC6 Chief Political Reporter Mark Curtis said, "It's hard to assess how much of an impact this fish tale – true or not – will have in the late stages of the campaign."
Charlie Baker was stumping in Attleboro, at the 103-year-old "Morin's Grille," chatting up voters. And insisting the old story a voter once told him, was not made up.
Reporter Question: Does it concern you that key people in the fishing industry in New Bedford recall no such family?
"Look, I had the conversation, I remember it, and I've been telling the story for a number of years. And as I've said, I may have gotten some of the wrong, but the essence of the story is true," said Charlie Baker, (R) Nominee for Massachusetts Governor.
Some political analysts say Baker's fisherman story could sway key undecided voters, it what may be a close election.