Mass. high school athletes warned of suspicious Facebook messages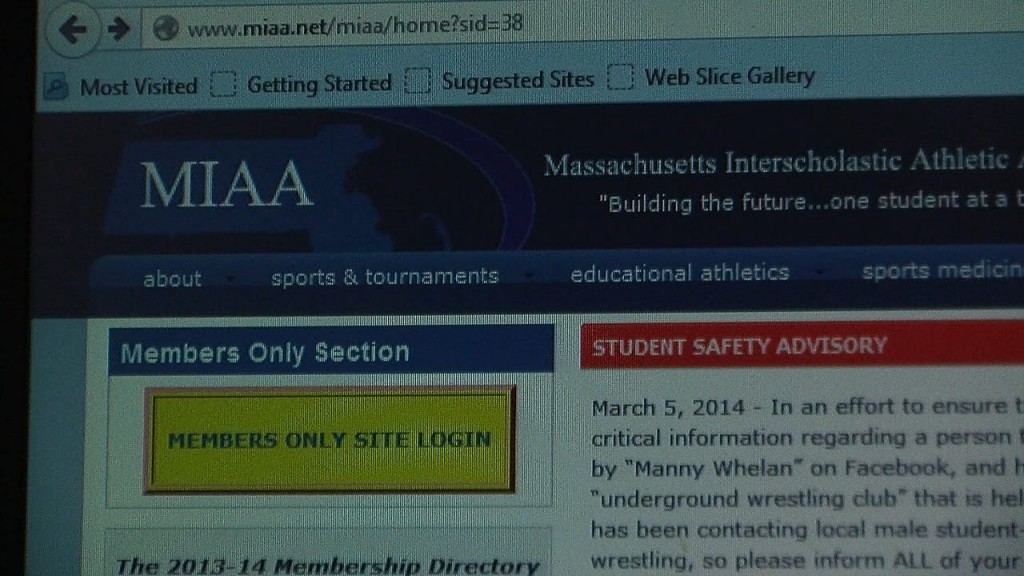 By News Staff,
The MIAA is warning coaches, parents and students about suspicious Facebook messages concerning an "underground wrestling club."
The warning, sent out to schools around the state, says for about two years a person who goes by "Manny Whelan" on Facebook has been messaging teens offering money to compete in the club.
"It's something you hear about, but it doesn't usually hit close to home, but this is the firs time so my coaches are aware of it and students will be made aware of it," said Westport Athletic Dir. Jason Pacheco.
Parents are now on alert.
"I am very disturbed, very disturbed. You find there is these creeps out there," said Danielle Medeiros, parent.
"They are trying to grab the kids thru Facebook, Instagram and all that and it's hard as a parent to know what's going on," said Kim Noonan, parent.
The MIAA isn't saying where in Massachusetts this is happening or if something recently prompted the alert.
Their full statement is below –
March 5, 2014 – In an effort to ensure the safety of our students, we wanted to pass along some critical information regarding a person trying to contact local athletes on Facebook. The person goes by "Manny Whelan" on Facebook, and he is offering local student-athletes money to "compete" in an "underground wrestling club" that is held in local hotels. It has come to our attention that this person has been contacting local male student-athletes for at least two years. This may not be exclusive to wrestling, so please inform ALL of your coaches, parents, and students.
If you have any information regarding this, please contact your local resource officer. If one is not available, contact the Massachusetts Internet Crimes Against Children Task Force at 978-451-3550.