Truck Accident in Fall River Results in Fire, Damage to Highway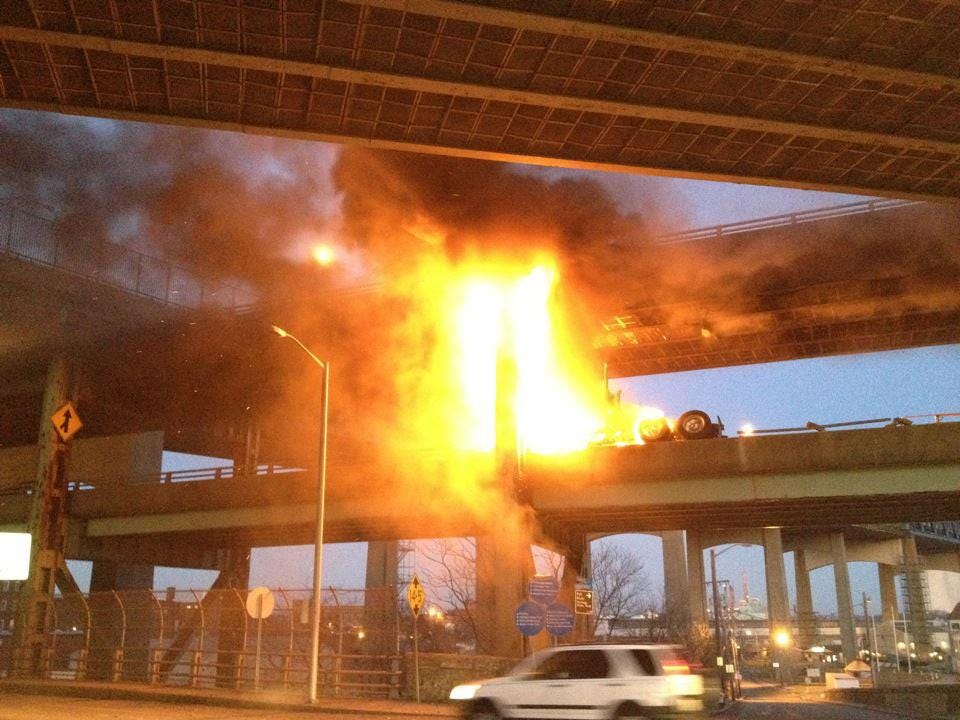 Massachusetts State Police are investigating a serious truck accident that happened on Route 79 southbound in Fall River on Sunday morning.
The accident was severe enough that the Mass. Department of Transportation has closed the double-decker highway, which is near the Braga Bridge in Fall River.
According to police, the crash happened at 6:05 a.m. on Sunday morning when a 1992 FLD tractor truck struck the jersey barrier on the right side of the roadway, veered to the left, and went up onto a curb.
The driver, Luis Cotto, 42, of Taunton, was seriously injured, according to police.
The truck did not have a trailer attached.
The truck, police say, rode along the guardrail until it struck a steel support beam, which was propped up by wooden scaffolding.
According to Mass. State Police, the crash ignited the wooden supports, creating a large fire. The intense heat may have caused structural damage to the highway by damaging the steel supports.
When Trooper Allyson Powell arrived, she found the smoke from the fire to be so intense that she had to park her cruiser at a distance and walk the scene of the accident.
Trooper Powell quickly found the driver, unconscious, laying over the jersey barrier. She dragged him away from the fire to safety.
Police closed down parts of the roadway, pending an investigation by Mass. Department of Transportation into the extent of the structural damage.
As of 1 p.m. on Sunday, several ramps have been closed. Route 79 southbound at Davol street, Route 79 southbound at Veterans Bridge, Davol street to Route 79 southbound, Broadway to Route 79 northbound, and Route 195 eastbound to Milliken Boulevard have been closed to traffic.
Police are advising people to avoid the area.
ABC6 News will post details as they become available.