MA couple stuck in Paris during terrorist attacks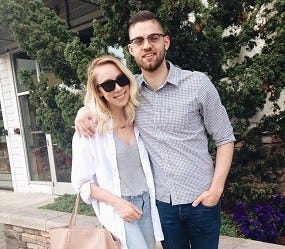 By Kirsten Glavin
kglavin@abc6.com
@kirstenglavin
"What was supposed to be a vacation just took a turn for the worst," said Brenden Noronha.
Brenden and his wife, Tiffany, were caught right in the middle of a series of deadly terrorist attacks, that shook Paris Friday night. It's the young married couple's first time in Europe. The tourists from Massachusetts arrived the same morning in the city of love.
Their vacation was then shattered, by explosions and gunfire.
"She woke me up, she said this is what's happening. And to be honest with you I thought it was a dream at first," Brenden explained over Skype.
The first sign something was wrong, came after they heard sirens blaring from the 5th story window of the flat they rented. Soon after, the young husband and wife were bombarded with messages from worried friends and family back home in the United States.
The couple said they were terrified to learn that they were close to the Parisian music hall, where more than 100 people were killed.
"It was about ten minutes away," Brenden said.
Their next thought… getting out.
"We just want to go home. Our first immediate thought was we want to pack our bags. We want to go," he explained.
But the couple is unable to leave, due to a declared state of emergency that closed all of the country's borders and grounded all flights.
"The city is on lock down, they closed the borders. I'm sure airports aren't really active right now," Brenden said.
The American couple are thankful they're safe, but anxiously waiting to leave the country.