Massachusetts voters head to polls for special Senate election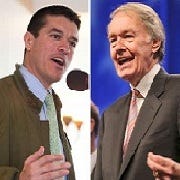 The Associated Press
Massachusetts voters are heading to the polls to pick a new U.S. senator.
Democrat Edward Markey and Republican Gabriel Gomez scrambled to energize supporters and mobilize get-out-the-vote efforts in the hours leading up to Tuesday's special election to succeed John Kerry, who resigned to become U.S. secretary of state.
Gomez cast his ballot this morning in Cohasset, where he lives. He said Markey hasn't addressed the big issues, despite working in Washington for 37 years.
Markey is scheduled to vote later this morning in his hometown of Malden.
Massachusetts state Secretary William Galvin expects turnout to be relatively light, with no more than 1.6 million of the state's 4.3 million registered voters casting ballots.
Polls are open until 8 p.m.
(C) WLNE-TV 2013