Massachusetts outlines plans, protocols for Ebola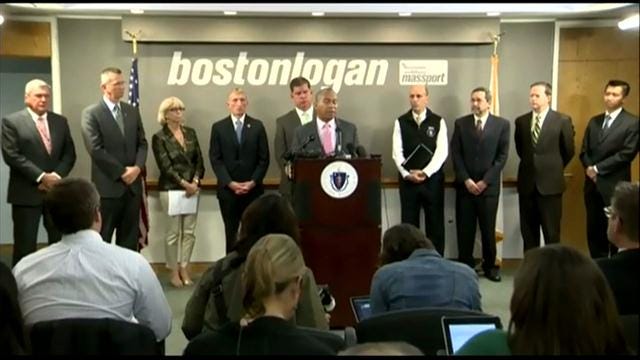 By: Melissa Randall
mrandall@abc6.com
In the wake of Monday's Ebola scare at Logan Airport Massachusetts officials are outlining the state's plan for how to deal with a potential case.
It was a scary situation for passengers aboard Emirates International flight 237. Boston emergency crews responded to reports of five people suffering from flu–like symptoms. While the sick passengers do not meet the criteria for Ebola infectious disease protocol was followed.
"This plan has served us well—and we've had several times to exercise it—and yesterday it responded exactly the way we designed it," Said Robert Donahue, Chief of the Massport Fire Rescue.
This is the second scare to hit the Bay State. Over the weekend a patient checked into a Boston area medical center and had to be quarantined and assessed for Ebola. Governor Deval Patrick says there is no cause for alarm.
"No confirmed cases of Ebola in Massachusetts, and according to the CDC we still remain, as a commonwealth, at low risk," he said during a press conference at Massport Tuesday morning.
Still, state leaders say Massachusetts is prepared to handle a case if one arises.
Hospitals have reviewed their infectious disease plans and later this week municipalities will be informed of protocols.
"We have world class hospital facilities. We have well trained personnel– both police, fire EMS," said Marty Walsh, Mayor of Boston.
Health officials say it's important for the public to educate themselves and know how Ebola is, and isn't spread.
"The Ebola virus disease is difficult to contract. That requires direct contact with the blood or body fluids of someone who has the disease," said Larry Madoff, Medical Director of Epidemiology and Immunization for the Department of Public Health.
© WLNE-TV 2014
Follow me on Twitter @MelissaARandall