Massachusetts State Police seize rifle with bayonet from 2 drug trafficking suspects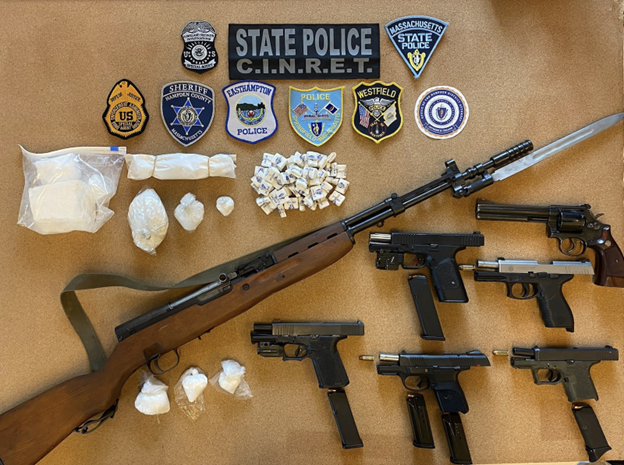 SPRINGFIELD, Mass. (WLNE) — Massachusetts State Police said two men were arrested on a laundry list of gun and drug charges after an investigation into reported narcotic trafficking.
Police said 36-year-old Micah Varela, of Springfield, and 36-year-old Roberto Santa, of Springfield, were arrested without incident outside a residence on Wilcox Street on Sunday. They were found to have two loaded guns and a large amount of suspected cocaine and methamphetamine in their possession.
After their arrest, police searched the apartment on Wilcox Street, during which they found four more guns and additional narcotics. One of the guns was a rifle with a bayonet attached to it.
Micah Varela is charged with:
Trafficking in cocaine, 200 grams or more
Trafficking in methamphetamine, 36 to 100 grams
Two counts of carrying a firearm without a license
Two counts of carrying a loaded firearm
Two counts of felon in possession of a firearm
Two counts of violation of a firearm surrender order
Roberto Santa is charged with:
Trafficking in cocaine, 200 grams or more
Trafficking in methamphetamine, 36 to 100 grams
Carrying a firearm without a license
Carrying a loaded firearm
Felon in possession of a firearm