Massachusetts State Police Task Force arrest narcotics traffickers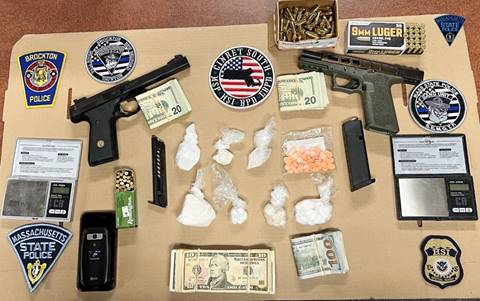 MASSACHUSETTS (WLNE)- A months long investigation into narcotics trafficking throughout the state of Massachusetts has led to two arrests.
During the afternoon of January 28, units from multiple agencies who had been surveilling the "stash house" in Taunton witnessed Luis Garcia-Rodriguez, 38, of Brockton and a woman, 26-year-old Danielle MacDougall leave the residence and enter a vehicle. When officers attempted to perform a traffic stop, Garcia-Rodriguez accelerated in reverse striking a unmarked police cruiser. He continued to drive in reverse, attempting to hide the suspected vehicle in the driveway of a nearby house.
Officers apprehended Garcia-Rodriguez as he tried to flee back to his house. They found a handgun and a quantity of fentanyl that qualified as trafficking weight in a bag he attempted to get rid of. MacDougall was also found to have narcotics on her possession while she remained in the car.
During the arrests 75 grams of fentanyl, 75 grams of cocaine, methamphetamine pills weighing 25 grams. 9 grams of Xanax, a .22 caliber handgun, 9mm pistol with no serial number, ammunition, $3,000 in cash, and other paraphernalia such as digital scales and packaging materials were all seized.
Garcia-Rodriguez was charged with the following:
Trafficking fentanyl
Trafficking cocaine
Conspiracy to violate drug laws
Unlawful possession of firearms and ammunition
Assault and battery with a dangerous weapon
Assault and battery on a police officer
Resisting arrest
Motor vehicle offenses
MacDougall was charged with the following:
Trafficking methamphetamine
Possession of a Class C narcotic with intent to distribute
Possession of a Class B narcotic
Conspiracy to violate drug laws
Allowing improper operation of a motor vehicle
Both suspects have been arraigned and will face prosecution in state court.