Massive birthday bash for boy battling cancer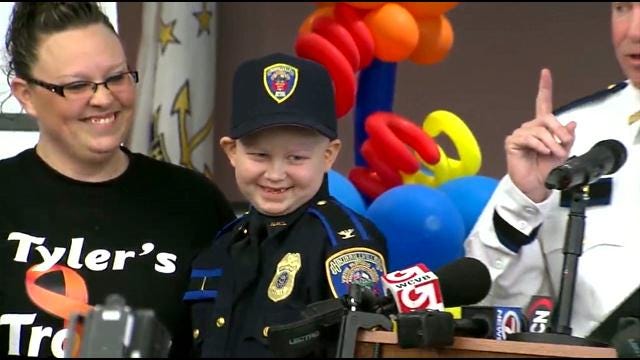 By: Alexandra Cowley
Close to a thousand police, firefighters, and EMS gathered at Wright's Farm in Harrisville to celebrate Tyler Seddon's 7th birthday. The banquet hall was packed full with uniforms from around the country, all traveling to Rhode Island to support Tyler in his fight against Cancer.
Tyler Seddon's story of fighting Leukemia for the second time inspired tens of thousands around the world. It started as a Facebook request for birthday cards from first responders and moved hundreds of police, fire, and EMS to be here in Burrillville for his birthday.
The attention was overwhelming at times for the 7–year–old.
Colonel Steven O'Donnell spoke at the podium, "you also were named a member of the Rhode Island State police Today. You also by our governor, imagine this you didn't even have to run for election, you're governor for a day."
After Tyler became honorary leader of pretty much the entire state of Rhode Island. He was given gifts and well wishes by everyone who traveled to see him. Including three state troopers from Delaware, they are all cancer survivors.
Delaware State Trooper David Huynh said, "we left at 7 O' clock last night and got here about 2 AM. Took one of our cruisers so we could be a part of the parade."
Corporal Mike McCann of the Delaware state police said, "its amazing that we can see and show our brotherhood and sisterhood with a kid who looks up to us."
After getting half way through the crowds of people wishing Tyler a happy birthday and showering him with gifts, he climbed into one of his many gifts, a decked out police powerwheels.
There were between 900-1,000 men and women in uniform at Tyler's birthday. It's important to remember why we're celebrating the 7-year-old. He's been strong through his fight with Leukemia. Tyler still needs a bone marrow transplant.
(C) WLNE-TV 2014