Massive Yacht Runs Aground in Woods Hole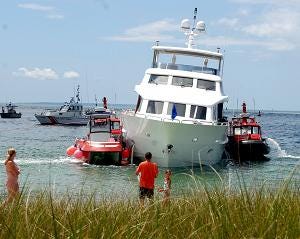 A 100-foot motor yacht ran aground Friday morning in the Woods Hole Pass.
Coat Guard crews responded to the vessel, 'Cocktails', just before noon on Friday, after the ran aground – on purpose, the Coast Guard says – after striking a rock and opening a large gash in the bow of the ship.
The two people on board the yacht at the time were not hurt, and were able to get off the boat safely.
A salvage crew was able to repair the yacht enough to safely tow it to the Falmouth Marina, escorted by the Coast Guard.
'Cocktails' is registered out of Miami, Florida.
Coast Guard officials say there was no spill, and no pollution to the area as a result of the incident.