Mayor Elorza to announces first distribution of Providence Guaranteed Income Program alongside community partners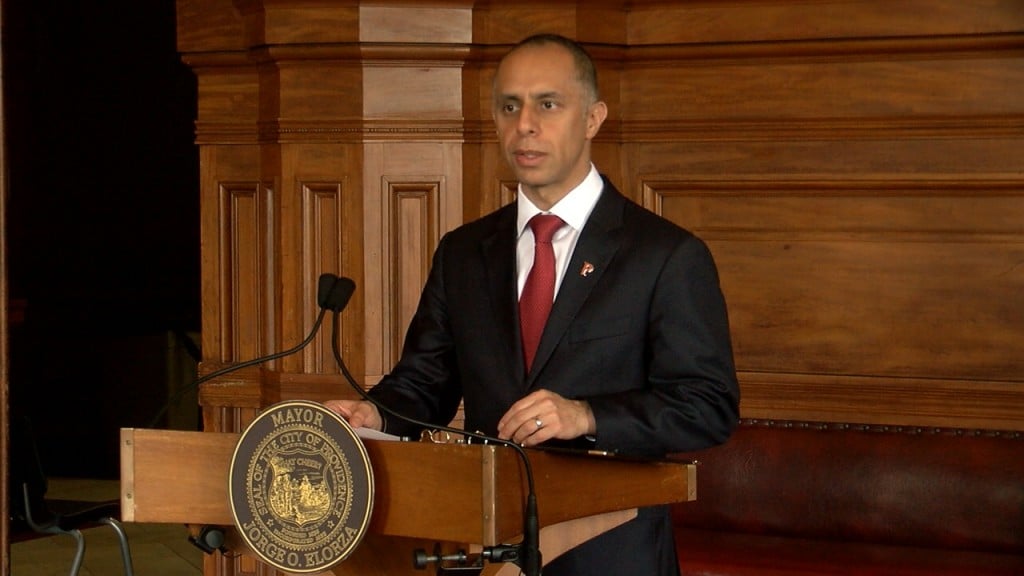 PROVIDENCE, R.I.(WLNE) – This afternoon, Mayor Jorge Elorza has provided updates on the first distribution of the Providence Guaranteed Income program.
The announcement was made Wednesday December 1, alongside RI Department of Human Services, Interim Director Celia J. Blue, Amos House Executive Director Eileen Hayes, Dorcas International Executive Director Kathleen Cloutier, Rhode Island Foundation President and CEO Neil D. Steinberg, and United Way of Rhode Island President and CEO Cortney Nicolato. 110 Residents were randomly chosen to participate in the PVDGI pilot and received their first of twelve $500 payments. The city also added an expansion of the public benefits counseling program, with a focus on supporting the PVDGI program.
"I am thrilled to be announcing these critical milestones as part of the Providence Guaranteed Income Pilot program," said Mayor Jorge O. Elorza. "Through our application process, we have seen the critical need by our residents for direct financial assistance. Thanks to our many partners, first payments have already been provided to 110 Providence residents enrolled in this program and the important corresponding benefits counseling that is needed. Additionally, I am excited that the benefits counseling modeled after our program will now be expanded to even more individuals in need."
To receive assistance from the program, recipients were required to have an income below 200% the Federal Poverty Level. The city and the Department of Human Services have announced benefits counselling will be available through Dorcas International and Amos House to all Rhode Islanders. Individuals who participate will be screened for all programs they can receive assistance from.
"I'm very glad to have been selected for the Providence Guaranteed Income Pilot Program," said Ms. Perry, Providence Guaranteed Income Program Recipient. "Not only has the additional income offered me financial security to buy Christmas presents for my two children, supply food for our household for Thanksgiving dinner, and save for future expenses, but the support services like benefits counseling have helped me to better understand how to maximize my benefits and resources."
All Rhode Island Residents are allowed to schedule benefits Monday to Friday at Amos House from 8:00 a.m. to 4:00 p.m. and Dorcas International from 9:00 a.m. to 5:00 p.m. for approximately 30 to 45 minutes. Appointments are available via phone, online or in person in both English and Spanish with interpretation available for other languages.
You can contact Amos House at 401-272-0220 and Dorcas International at 401-784-8600. For more information, call 3-1-1 or visit PVDGI.COM