McCray Runs Wild as Bryant Rolls Over Central Connecticut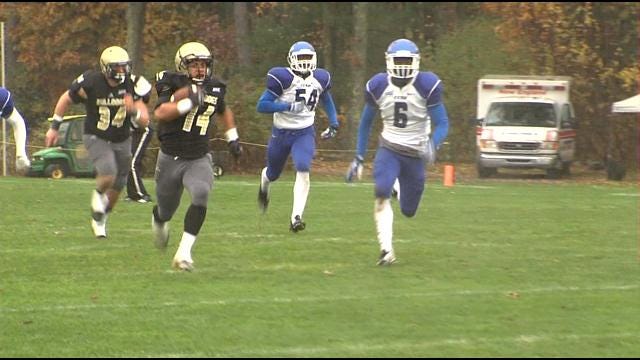 Bryant news release…
SMITHFIELD, R.I. – Redshirt junior Ricardo McCray (Middletown, Conn.) rushed for a career-high 243 yards and three touchdowns to lead the No. 24/25 Bryant University football team to a 31-3 victory over Central Connecticut on a rainy Saturday afternoon at Bulldog Stadium.
The Bulldogs (7-1, 3-0 NEC) used a dominant running game and lock-down defense to run their winning streak to four, tying the longest stretch in Division I history. Bryant has now won each of its last three games against the Blue Devils (2-7, 0-4).
For the second-straight week Bryant's running game flexed its muscles. With heavy rains falling for most of the game, the Black and Gold ran the ball 43 times for a season-high 352 yards. McCray averaged 20.3 yards on his 12 carries, while Paul Canevari (Warwick, N.Y.) rushed for 116 yards on 18 carries.
With the score tied at 3-3 at the half, McCray took over in the third quarter. Bryant punted on its first possession of the second half but the defense stopped the Blue Devils and got the ball back. Starting at their own 20, the Bulldogs gave the ball to McCray and he was stopped for a two-yard loss. On the very next play, however, McCray burst up the middle and exploded for an 82-yard touchdown run to give the Bulldogs the lead.
McCray wasn't done as he tacked on a one-yard TD run on Bryant's next possession and a 57-yard midway through the fourth quarter. After the Bulldogs forced a Blue Devil punt, McCray helped fuel the ensuing drive with a 50-yard run to put the ball inside the 10. Three plays later, he punched it in from a yard out on fourth-and-goal. McCray added his third touchdown of the game with 7:59 left in the game. Bryant took over at its own 44, and after a loss of a yard, McCray exploded for a 57-yard run to make it 24-3.
The Bulldogs completed the scoring on its very next drive. Sophomore Patrick Kenney (Camarillo, Calif.) recovered a fumble and returned it to the CCSU 11 to put the Bulldogs in great position. Four plays later fifth-year senior Michael Perry (Dunmore, Pa.) punched it in from two yards out on fourth down to make it 31-3.
Saturday's contest started as defensive battle with both teams settling for field goals in the first half. Central's Ed Groth hit a 21-yard field goal at the beginning of the second quarter to give the Blue Devils a 3-0 lead. Fifth-year senior Tom Alberti (Marshfield, Mass.) knocked down a 20-yard field goal as time expired in the first half to tie the game.
Bryant's defense was suffocating in the first half and all game long. The Black and Gold allowed just three first downs and only 79 yards of total offense in the first half. The defense helped set up two short fields but the Bulldogs couldn't take advantage. Bryant took over at the CCSU 45 after a three-and-out but a 41-yard field goal was blocked. After punting the ball away, sophomore Marquise Watson (Hillside, N.J.) knocked the ball free from CCSU quarterback Quinn Fleeting and Kenney recovered to put the ball at the Blue Devil 10. A false start and a sack pushed the Bulldogs back to the 25, however, and they turned it over on downs.
CCSU put the first points on the board with a 13-play, 74-yard drive that was capped by a field goal from Groth. Fleeting highlighted the drive with a 32-yard run on third down before Groth knocked down a 21-yard field goal.
McCray and Canevari both rushed for over 100 yards in the same game for the second-straight week, while Canevari has now rushed for over 100 yards in all four career games against NEC teams. For McCray, it is the first time he has eclipsed 200 yards and becomes the first Bulldog to do so since Jordan Brown rushed for 243 on Nov. 12, 2011 against Saint Francis U. Sophomore Dalton Easton (Miami, Fla.) completed 7-of-12 passes for 37 yards and threw the ball just once in the second half.
Defensively, Watson finished with a team-high eight tackles and senior Jeff Covitz (Reading, Mass.) had seven tackles and 3.5 tackles for a loss. Freshman Dillon Guthro (Newburyport, Mass.) had 2.5 tackles for a loss and Maduka Nwankezi (Milton, Mass.) and Sebastian Amedee (Ft. Lauderdale, Fla.) each had two tackles for a loss. Senior Dujuan Heath (Brooklyn, N.Y.) had a career day with his first-career interception and a fumble recovery. Kenney finished with three tackles and two fumble recoveries.
The Bulldogs head on the road for their next two games, beginning with a trip to Pittsburgh, Pa., on Saturday, Nov. 8 to take on Duquesne. Kickoff is scheduled for noon.