McKee spends what could be last day as lieutenant governor working closely with municipalities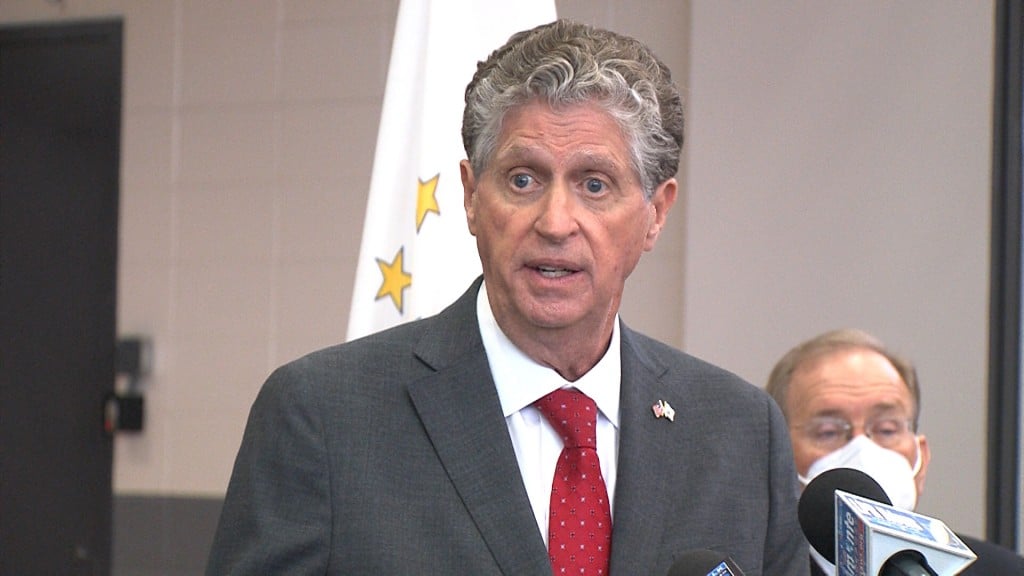 PROVIDENCE, R.I. (WLNE) – While the U.S. Senate prepares to vote on Governor Gina Raimondo as Commerce Secretary, incoming Governor Dan McKee spent his final days as lieutenant governor working closely with municipalities on their vaccine response.
McKee started Monday morning in Warwick touring the city's community clinic at Warwick Vets Middle School along with Mayor Frank Picozzi. He then was on a call with municipal leaders about COVID response, a call that's happened frequently since McKee stepped into the spotlight.
He then attended a press conference at the Dunkin' Donuts Center vaccination site with Congressman David Cicilline and Congressman Jim Langevin to press the U.S. Senate on passing the American Rescue Plan.
When asked what Rhode Islanders can expect from his administration during the pandemic, McKee said a close relationship with cities and towns and expanding the state's capacity to handle more vaccine doses.
The health department wants to eventually consolidate local vaccine clinics and instead open five regional sites to cut down on the time it takes to redistribute vaccine doses to municipalities. But right now, McKee said, local clinics are what's best for the older population.
"It makes sense the way we're doing it right now because you're dealing with a population that should be, you know, serviced in their local community. As we get into younger age groups they'll be able to travel. Remember this, and we've said this all along, and I've been at this for several weeks now, not several months… We need to build a capacity."
The state's two mass vaccination sites in Providence and Cranston, along with two more that will soon be coming to Middletown and Woonsocket, can handle the state's allotment of doses, but as that number increases, the state wants to prepare for that influx.
Rhode Island could get thousands of single-dose vaccines soon since Johnson & Johnson's COVID-19 vaccine was approved.
"If we did the reverse and only built the capacity to the supply we have right now, then we'd be scrambling to build this capacity."
McKee reiterated that under his leadership teachers will be prioritized.
"We are one of the few states in the country that doesn't have teachers and related workforce on a priority list so we'll work them in," he said.
It's up in the air when McKee could officially become governor, but it likely will be on Tuesday. He explained that his swearing-in will be private, and a public swearing-in will be held on Sunday.
"There will be a private swearing-in, and then we will meet with my cabinet that I have been able to put together. Most of the cabinet members are pre-existing but we're gonna make sure that they're a part of our team and know that we're a part of their team."
McKee has not yet released the members of his cabinet.
© WLNE-TV 2021