McKee unveils $11.17 billion budget proposal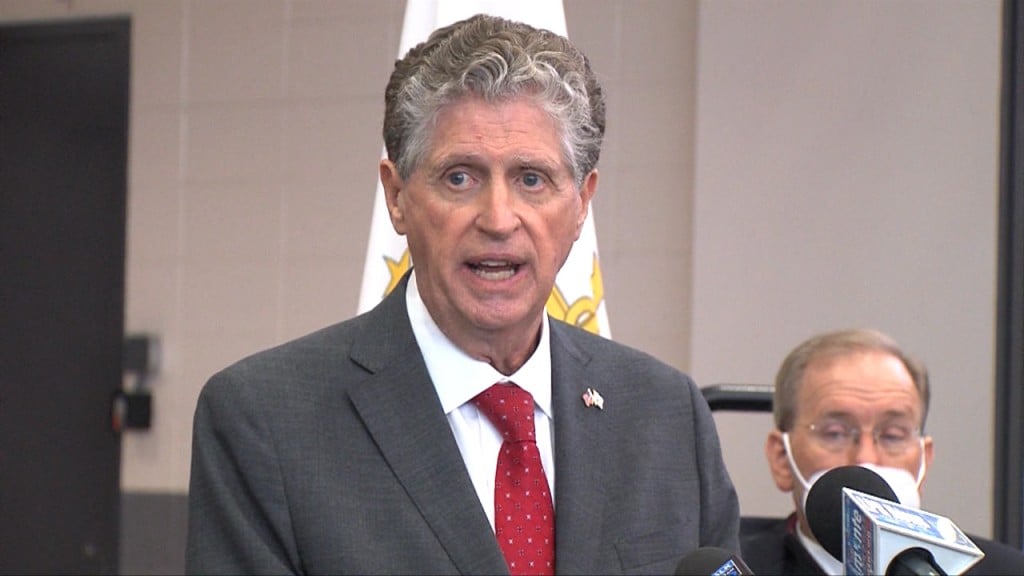 PROVIDENCE, R.I. (WLNE) – Governor Dan McKee released his administration's budget proposal for the fiscal year 2022 on Thursday.
The $11.17 billion proposed budget will likely change, as it does not take into account the latest stimulus package from the federal government that's expected to bring in $1.1 billion to the state.
"We're ready, and we think this budget will reflect our readiness," Governor Dan McKee said in his opening statements during a virtual briefing with his team and members of the press.
"It's customary for everybody involved to thank the budget staff, but this year is different," said James Thorsen, Director of the Department of Revenue, "and that's because, as the governor referred to, we're in the middle of a pandemic and doing it during a gubernatorial transition."
McKee's proposal has more than $100 million going toward COVID response and does not raise income taxes, but it would tax businesses on federal PPP loans more than $150,000.
It's one of several measures to make up for the state's $336 million deficit.
Other proposals in the budget include the continuation of funding workforce programs and economic development and expanding mental health and substance use supports.
"Providing nearly $800,000 in supportive housing… Housing being very important to helping individuals get on the right track," said Jonathan Womer, Director of the Office of Management and Budget.
It also establishes a permanent funding stream for affordable housing and gives more help to small businesses.
"The budget funds $1 million for our current small business assistance program that focuses on lending," added Womer.
Correction reform is a big piece of the budget, with McKee's administration aiming to make changes to probation and parole.
"(The proposal) would give credit to those serving probation to be able to reduce their sentences by approximately a third. In addition, parole reform… Offering incentives that take up to a six of one's parole sentence away."
As for the deficit, McKee hopes to make up for it with stimulus dollars. The state is also making more money on casinos than originally thought from the shutdown, and McKee unveiled his plan for adult-use marijuana that's expected to help with the deficit.
The budget would legalize adult-use marijuana with 25 retail cannabis licenses, expecting to generate more than $1 million for the state in the coming year.
"This is a market-based proposal, so not the state-run proposal proposed by the previous administration," Womer explained. "It would have a competitive tax structure so about a 20% effective tax on marijuana with strong investments in public health and safety."
The McKee proposal also aims to phase out the state's car tax, raise beach fees at the state's busiest beach, Misquamicut State Beach in Westerly, and will not raise income taxes even for the highest of earners.
"With that additional federal money," Thorsen said, "We didn't believe it was necessary to raise taxes."
A major piece of the budget is the changes to Eleanor Slater Hospital, a state-run hospital system. A $65 million mental health facility has been proposed to be built at the Zambarano complex in Burrillville.
It was said Thursday that patients would not be moved during construction.
House Speaker K. Joseph Shekarchi released a statement Thursday afternoon following the release of the proposed budget.
"In the brief time Governor McKee has had to fully prepare for his first budget submission, he has been very collaborative and we have developed a good working relationship that I am confident will continue throughout the budget process. I also applaud Rhode Island's federal delegation for providing our state with this critical stimulus assistance.
"The most recent package will give the legislature and the administration some flexibility to work together and address long-term structural deficiencies and make other important policy decisions that put Rhode Island on the path for a robust and sustainable post-COVID recovery. I am ever mindful that these one-time funds will not be there to support the ongoing costs of new or expanded programs and we must be prudent in order to emerge from this crisis stronger. The House Finance Committee will now conduct its usual deep dive into every article of the budget in a detailed and transparent public process."
On Thursday evening, McKee released the following statement:
"Our Fiscal Year 2022 budget proposal addresses the pressing needs posed by the pandemic, none more important than vaccinating the state's population as quickly and safely as possible. Our proposal lays the foundation for us to equitably support the areas that need it the most in this recovery process: in our education system; in our cities and towns; and in our economy. The pandemic has also magnified many inequities and injustices that predate COVID-19 – our budget looks ahead to address these issues and others that will persist even after the threat of this virus subsides.
I vow to work closely with our General Assembly, our leaders in health care, officials from all 39 cities and towns, the small business and nonprofit communities, and all other stakeholders to meet this pivotal moment in our state's history."
© WLNE-TV 2021