Bristol parade to feature Medal of Honor recipient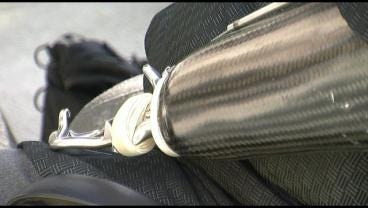 By Abbey Niezgoda
The Bristol parade route is about 4 miles long, but one man drove over 1,000 miles to be in it and remind us all what the Fourth of July is really about.
"Medically, I should have been dead, but here I am," Gary Wetzel said.
Wetzel's journey to Bristol's Fourth of July Parade really began back in 1966, when he enlisted in the United States Army.
The Wisconsin native was a gunner in Vietnam, and 10 days before he was supposed to go home, his helicopter came under fire.
"It's not all bang, bang, shoot 'em up and stuff like that," Wetzel said. "You've got people crying for their mamas and their papas."
They are cries that Wetzel answered that day, even though he lost his left arm and lost consciousness more times than he can count. He continued to man his machine gun and save the lives of the soldiers around him.
"I think there was this higher power up there and I think he was saying keep the red head alive!"
All jokes aside, his efforts earned him the highest military distinction there is, the medal of honor.
"9 times out of 10 it is awarded posthumously," Wetzel said.
He will be wearing it in Bristol's Fourth of July Parade as one of this year's guests of honor. He is a reminder of the price we pay and the reason we celebrate.
"I just hope that even the young people will look up at me and say 'hey, that's an American hero right there,'" Wetzel said. "And maybe I'll make a difference on somebody's life. I guess that's really what it's all about. "