Meet Buddy: The first funeral home therapy dog in Rhode Island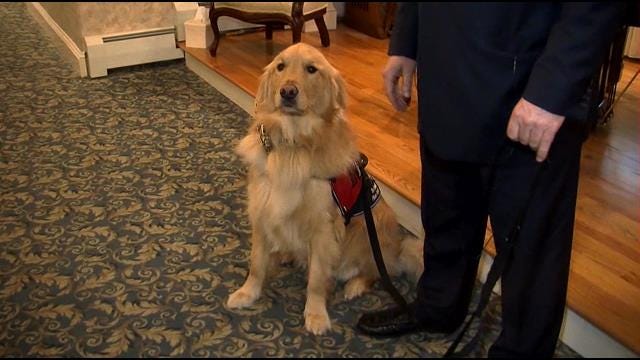 By: News Staff
Email: news@abc6.com
Twitter: @ABC6
SMITHFIELD, R.I. — The daunting task of making final arrangements for a loved one who has recently passed away is becoming a little easier at one funeral home in Smithfield.
A Golden Retriever named "Buddy" is the first funeral home therapy dog in Rhode Island, and his presence and kisses are bringing smiles to those who need it most.
Inside the Anderson Winfield Funeral Home, chairs were all set up and nearly everything was ready for the day's next funeral service, when in comes the last element: A vital part of the staff.
Meet Buddy, an 18-month-old Golden Retriever who is the first funeral home therapy dog in the state.
"He's gentle, he is unconditional love. It's a touch, it's a wag it's a goofy look," said Thomas Winfield.
The funeral home has been in Thomas Winfield's family for decades and he is Buddy's owner.
Winfield says pairing the two makes perfect sense.
"Sometimes people open up, sometimes it's a nudge, sometimes it's a little more, sometimes he just leans on people and sometimes people are on the knees and he gives them big kisses," said Winfield.
Buddy is able to sense the emotions of those he meets. At times, he can be quiet and reserved and then goofy and loveable.
"We met a veteran suffering from PTSD and he came over and he knelt down and buddy just leaned against him," said Winfield.
Winfield says Buddy has a gift that brings a sense of comfort to those who need it most.
"You just have to see it to believe it," said Winfield.
And do not worry, Buddy is on the payroll too.
He receives snacks, hugs, different sets of bow ties, and a pretty cool ride.
©WLNE-TV / ABC6 2017