Melissa Randall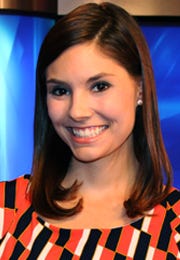 Melissa Randall joined the ABC6 news team in July 2012 as a multi-media journalist.
Melissa's experience includes time as a reporter for Worcester News Tonight in Worcester, Mass. and New England Cable News in Newton, Mass. She has covered major stories including the Central/Western Mass Tornadoes, The Boston Marathon Bombings, and the Aaron Hernandez murder Investigation.
Melissa is a graduate of Curry College in Milton, Mass., where she earned a B.A. in Communications. At Curry, Melissa was the News Director at the award winning campus radio station, WMLN 91.5 FM.
Melissa enjoys spending time with family and friends, cheering on Boston sports teams and spending time on Rhode Island beaches.
Melissa grew up in Millville, Mass. She now lives in Burrillville, Rhode Island with her husband, Kevin, and their two cats, Toby and Abel.
If you would like to share a story idea, you can contact Melissa by e-mail at mrandall@abc6.com or tweet her at @MelissaARandall. You can also 'Like' her Facebook page at facebook.com/MelissaRandallWLNE.