Melting Snow Giving Way to Serious Road Flooding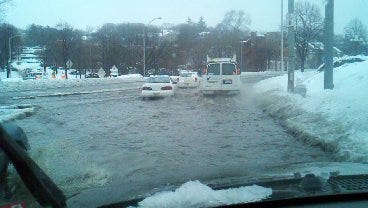 Melting snow and persistent rains are creating very hazardous road conditions on highways and side roads alike.
Add to that the fact that most drains aren't cleared, and ponding and flooding on the roads is almost automatic.
Rhode Island State Police are advising drivers to be extremely careful while driving, and to reduce speeds on the highways.
ABC6 Reporter John Guice found flooded streets all around Rhode Island, including one man whose car was simultaneously stuck in a snow bank and an enormous puddle.