Memorial service held for Foxboro teen with rare aging disease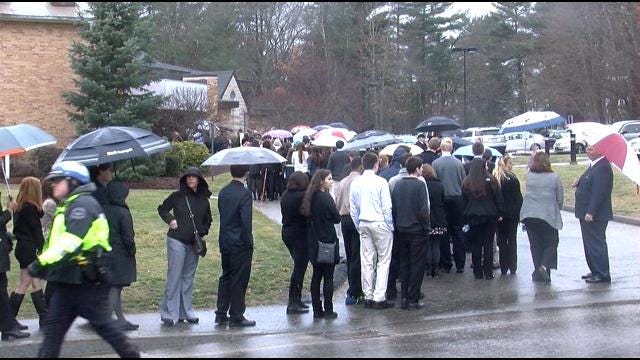 By: Melissa Randall
Twitter: @MelissaARandall
Nearly a dozen school buses brought Sam Bern's classmates from Foxboro High School to
Temple Israel in Sharon, Mass Tuesday to say good–bye to the friend they looked to for inspiration.
"It's hard to say good–bye to someone who is so exuberant, so wonderful, so full of spirit, and touched everyone he met," said Liza Morris of the Progeria Research Foundation who has known Sam since he was 6 years old.
Sam beat the odds in so many aspects of his young life. Statistically, people with the same rapid aging condition —progeria— only live until 13. Sam died Friday at age 17.
"We're all very saddened by the inevitability of it," said John Seng, also of the Progeria Research Foundation.
The teen's last days spent raising awareness. His life story was told by HBO.
"I don't want people to feel bad for me," Sam said during a conference last month.
Sam had goals, and nothing would get in his way. His dream of participating in the high school marching band became a reality when he took the field. An engineered drum made especially for him hung from his frail shoulders.
"The other students were in awe," said Steve Massey, Music Director for Foxboro High.
His upbeat attitude caught the attention of New England Patriot's owner Robert Kraft. The two had a special bond. Kraft attended Sam's funeral service.
Sam's friends and family say he was always wise beyond his years. The teens' speeches are still etched in their minds.
"I feel like I'm at my highest point when I'm with the people that surround me every day," Sam said at that conference. "They provide the real positive influences in my life, as hope that I can provide a positive influence in theirs as well."
Sam's influence will help others with progeria. Through crucial research into the aging process his legacy will live on.
© WLNE-TV 2014