Memories Still Vivid for RI Pearl Harbor Survivor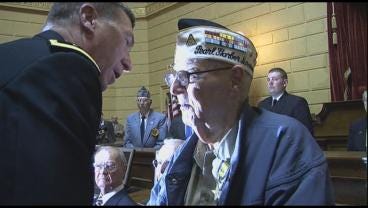 Gilbert Hawkins, 93, sits in his recliner in East Greenwich, RI, donning his favorite baseball cap.
"It says USS Sacramento," Hawkins said. "'Old Sacky,' that's the ship I was on."
Hawkins was a water tender aboard the USS Sacramento, one of 8 ships attacked by the Japanese in Pearl Harbor on December 7, 1941. 70 years later, he still remembers every detail.
2,402 Americans were killed. Hawkins was just 23 years old.
"I'm surprised I lived through that day," Hawkins recalled. "There were bombs flying all around, and there were rows of bodies wrapped in tarp. You don't forget that kind of image."
Hawkins was one of 6 Pearl Harbor survivors honored at the Rhode Island State House today. Before a crowd of veterans of all different wars, they each received pins of recognition.
"It felt great," Hawkins said with a smile. "G-r-e-a-t. Great."
The Pearl Harbor Survivors Association is disbanding after this year because there are so few survivors left. However, Rhode Island leaders say they will do everything they can to make sure the day is remembered year after year.